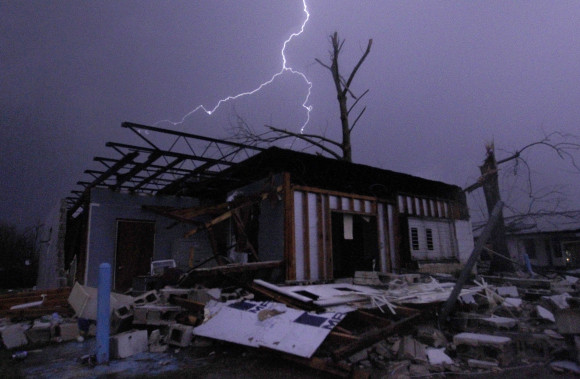 Birmingham, Ala., city officials say more than 70 structures sustained some type of damage after a Christmas Day tornado touched down in the city.
Birmingham spokesman April Odom said a preliminary assessment found that the storm damaged 72 structures in the Jefferson Avenue area, ranging from minor damage to full destruction.
An update to the Birmingham City Council said the Friday storm damaged other parts of the city as well, and assessments for those areas would be completed this week.
More storms hit the state on Monday, downing trees and dumping heavy rain on the state. The National Weather Service issued at least four short-lived tornado warnings in southeast Alabama as radar indicated possible tornadoes, although no major damage was reported.
The heavy rains closed roads and caused flooding in low-lying areas near streams and rivers.
Alabama Emergency Management Agency Director Art Faulkner said at least 22 Alabama counties were reporting infrastructure problems with roads and bridges because of flooding.
"There are some with water over them. There are some that are completely washed out," Faulkner said.
The swollen Alabama River submerged part of the riverfront park in Montgomery. Law enforcement authorities urged people to be cautious and avoid swiftly moving floodwaters.
More than 100 homes, businesses and structures were flooded in Coffee County as the Pea River and area streams swelled their banks from the Christmas Day storm.
Seventy families registered for assistance at the volunteer center in Elba that was collecting food, clothes, cleaning supplies and other donations for displaced families.
"A lot of those folks were hit really hard," said Philip Box, the Elba representative for the Recovery Organization of Coffee County.
Elba Mayor Mickey Murdock said the river was beginning to recede Monday and had reached below flood stage, but the continued rains were hindering the effort to assess, and then begin cleaning up, the damage.
At least two deaths, and possibly a third, were caused by the Christmas Day storm system.
A man and a 5-year-old were killed Christmas Day in Coffee County when their vehicle was swept away by flood waters as they tried to cross a closed bridge.
Faulkner said the body of another man was found Sunday in 10-foot-deep floodwaters in Madison County.
The state is expected to get one more round of heavy rain and potentially severe weather with another storm system is expected to move through the state Wednesday.
"Then the good news is we have nice, dry and cooler weather," Jason Holmes, a meteorologist with the National Weather Service, said.
Related:
Copyright 2021 Associated Press. All rights reserved. This material may not be published, broadcast, rewritten or redistributed.
Was this article valuable?
Here are more articles you may enjoy.