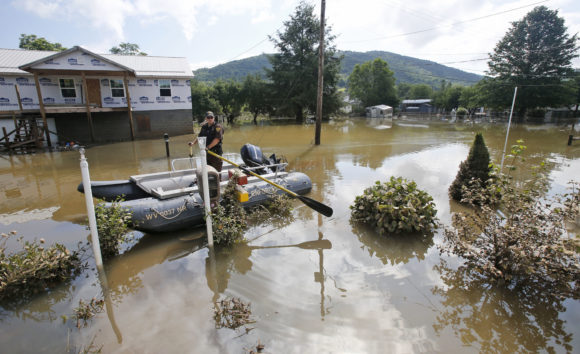 The West Virginia counties of Greenbrier, Kanawha, and Nicholas have been declared federal disaster areas in the wake of severe storms that devastated the state, killing 24 people and destroying more than 100 homes, as of Sunday.
The Federal Emergency Management Agency (FEMA) announced June 25 that federal disaster assistance is now available to residents and businesses in the state to supplement state and local recovery efforts in the areas affected by massive flooding, landslides and mudslides.
Gov. Earl Ray Tomblin made expedited verbal requests for a major disaster declaration from FEMA on June 25. He had announced a State of Emergency for 44 counties in the state the previous day.
"The flooding we experienced Thursday and into [Friday] is among the worst in a century for some parts of the state," Tomblin said in a statement.
Local media outlets were describing the devastation as a 1,000-year flood event.
The National Weather Service said in a statement the cause of the massive floods came from "extremely rare amounts of rainfall on June 23…most of which occurred in several rounds with high rainfall rates all in a time window of under 12 hours" across portions of Greenbrier County, West Virginia and Alleghany County, Virginia.
NWS said June 26 that radar and rain gauge measurements showed as much as 8-10″ (perhaps higher locally) in a band across the central portions of these counties, qualifying the situation as "nearly a 1-in a thousand-year event."
NWS said flash flooding and flooding has been historic in the two aforementioned counties, as well as in other counties farther to the northwest in West Virginia, and included "major to record flood levels on some rivers, numerous water rescues, power outages, structures damaged, and people temporarily displaced."
State Emergency Operations crews worked through the weekend to rescue those trapped by flood waters. Tomblin also authorized the deployment of hundreds of members of the West Virginia National Guard to assist local emergency responders.
The Associated Press reported Sunday that 24 people had died statewide as a result of the floods; 16 of those deaths were people in Greenbrier County, at least 15 of them in Ranielle. And Tomblin's administration believes people remain missing in the area.
"It does not appear there are unaccounted for people in other counties, but it's still a somewhat fluid situation," said Chris Stadelman, Tomblin's chief of staff, told the AP.
Media outlets reported 500 people were stranded overnight in a shopping center when a bridge washed out and dozens of other people had to be plucked off rooftops or rescued from their cars.
According to AP, The Greenbrier, a luxury resort owned by Jim Justice and home of the PGA Greenbrier Classic, opened its facilities to residents who were displaced by floods or were in need of medical help.
"All of our focus needs to be on helping all of the people of our great state," Justice said in a news release, as reported by AP. "So many have lost loved ones, their homes, and have no place to go."
The PGA announced that due to substantial damage to the resort and the impact of the floods on residents, the Greenbrier Classic scheduled for July 7-10 was cancelled.
The Old White TPC, host course for the tournament, suffered extensive damage from the flooding and is beyond reasonable repair to conduct the tournament, TOUR officials said.
"We are heartbroken by the devastation that the residents of West Virginia are experiencing at this time and the reports of lives lost due to the terrible flooding," said PGA TOUR Commissioner Tim Finchem in a statement on the PGA's website. "Cancelling The Greenbrier Classic is certainly the most prudent course of action as our foremost concern is the well-being of those who are having to live through this tragic situation. Our thoughts and prayers are with them."
The worst may not be over just yet, either. NWS said flash flood warnings were in effect for Monday as more rain was expected in the state throughout the day and into Tuesday.
Topics Flood Virginia West Virginia
Was this article valuable?
Here are more articles you may enjoy.