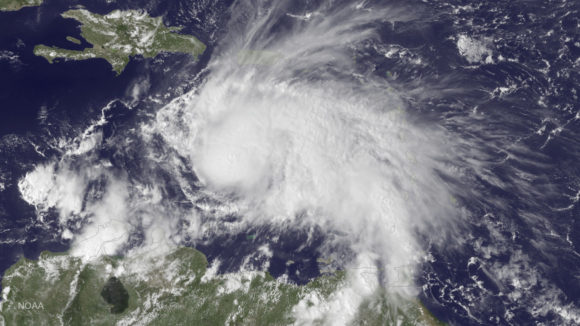 As the Caribbean waits for what is expected to be a category 4 Hurricane, Florida is preparing for the possibility of catching the tail end of the strong storm.
Florida Gov. Rick Scott released a statement Sunday after he was briefed by the Florida Division of Emergency Management (DEM) and the National Hurricane Center (NHC) on Hurricane Matthew, currently a major category 4 hurricane with maximum sustained winds of 140 miles per hour.
"This is a serious and life threatening storm," Governor Rick Scott said. "This storm is catastrophic, and if it hits our state, we could see impacts that we have not seen in many years. Even though the storm's projected path is just east of our state, no one should take this lightly. Storms change fast and Hurricane Matthew could hit Florida as early as Wednesday."
The Governor's Office said the state will continue to hold twice daily calls with the NHC and all 67 Florida counties as the storm approaches to ensure "every local community has all available resources to prepare and respond to Hurricane Matthew."
Currently, The Weather Channel said Hurricane Matthew is moving through the Caribbean Sea and is projected to make landfall in Haiti and Jamaica late Monday into early Tuesday bringing 15 to 25 inches of rain and up to 40 inches in isolated areas, according to the National Hurricane Center. It will then move through parts of Cuba, and hit the Bahamas Wednesday through Thursday. If it continues on its current pace parts of Florida and South Carolina could see its effects Thursday through Saturday.
Scott said as of Sunday, there have been no evacuations ordered in Florida, but added that could change quickly. He urged residents to stay alert and watch for protective actions and emergency messages.
"Hurricane Matthew continues to pose a significant threat to Florida. I encourage everyone to take this potential threat seriously. Even if this storm does not make direct landfall, the significant risks of rip currents and severe weather will still exist," Florida Division of Emergency Management Director Bryan Koon said.
Matthew would be the second hurricane to hit Florida this season after an 11-year hurricane drought. Hurricane Hermine, a category 1 storm, passed through the state in September but losses from that storm were considered manageable for the industry.
Was this article valuable?
Here are more articles you may enjoy.