Insurance commissioners in Mississippi and Georgia, two of several Southeast states hit over the weekend by devestating tornadoes that damaged thousands of homes and caused millions of dollars in insured losses, are calling on the insurance industry to assist their departments in helping residents get back on their feet.
The National Weather Service estimates that at least 39 tornadoes rolled through several Southeast states between Jan. 21 and Jan. 23. At least 20 deaths have been reported across the region, with the most significant loss of life and property damage occurring in Mississippi and Georgia.
Mississippi Insurance Commissioner Mike Chaney has asked the insurance industry to expedite payments for living expenses for individuals affected by deadly storms and twisters Jan. 21-22.
"Insurers have also been alerted to make sure displaced individuals get living expenses," Chaney said in a statement on Jan. 21.
The Mississippi Emergency Management Agency said Wednesday that an EF-3 tornado struck portions of Lamar and Forrest Counties, an EF-2 touched down in Lauderdale County, and an EF-2 tornado struck Perry County. The largest tornado tore a 31-mile path across south Mississippi.
More than 1,200 homes were damaged in eight total counties – 549 of them were destroyed or sustained major damage. There were also four confirmed deaths and 51 injuries.
Forrest County was the most affected by the storms with four deaths and 56 injuries; 499 homes were destroyed or suffered major damage and 632 suffered minor damage. The other affected counties include Franklin, Jones, Lamar, Lauderdale, Perry, Pike and Wilkinson.
Mississippi Gov. Phil Bryant declared a State of Emergency on Jan. 21. On Wednesday, Pres. Trump declared Forrest, Lamar, Lauderdale and Perry counties as federal disaster areas, which will provide individual assistance and a statewide hazard mitigation grant. MEMA said additional damages are being surveyed by Joint Preliminary Damage Assessment Teams to be considered for additional federal disaster assistance.
In the meantime, the Mississippi Insurance Department put together a mobile disaster assistance center on Jan. 24 in Petal, Miss., to assist storm victims. MID said four insurance companies, including Allstate, and The Hartford, set up at the village and a fifth was set up at the offices of Shelter Insurance Agent Jeff Mills.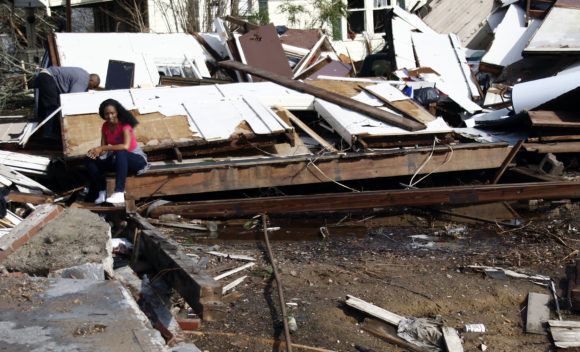 The units are primarily for issuing additional living/emergency expense payments to those who are immediately displaced, MID said.
According to MID spokesperson Donna Cromeans, there had been minimal foot traffic at the disaster assistance center and none of the major carriers in Mississippi, by market share, have reported more than 250 claims each, so far.
Commissioner Chaney estimated that insured damages would be about $100 million and uninsured losses would be more than $50 million. He said more data on those numbers would be available late Thursday or early Friday.
Georgia
Georgia Insurance Commissioner Ralph Hudgens toured areas in the state Jan. 24 that were affected by storms, including multiple tornadoes, on Jan. 21 and 22.
"I've been the state insurance commissioner for six years and I've seen storm damage from hurricanes, tropical storms and tornadoes before, but I have never see the utter devastation like I saw in Southwest Georgia today," the Albany Herald reported Hudgens as saying.
A State of Emergency declared by Gov. Nathan Deal now exists in the following 16 counties: Atkinson, Baker, Berrien, Brooks, Calhoun, Clay, Colquitt, Cook, Crisp, Dougherty, Lowndes, Mitchell, Thomas, Turner, Wilcox and Worth. Mitchell and Dougherty Counties, impacted by severe weather earlier this month, are now covered under this emergency declaration as well.
The Georgia Department of Insurance (GADOI) said in a statement Jan. 25 that the storms resulted in at least 15 deaths and an estimated $100 million in property damage.
Hudgens said Wednesday he plans to dispatch specialists from the Consumer Services Division to the area to assist survivors with their insurance needs.
He urged the industry to respond to the affected residents quickly.
"Individuals in these areas have suffered devastating losses and should receive special consideration with regards to their insurance claims," Hudgens said. "I have notified the larger insurers and expect them to first and foremost take care of the immediate needs of their policyholders. This includes providing direct emergency funds for basic necessities such as food and shelter."
Hudgens also issued a directive to all licensed insurers in the State of Georgia directing them to "exercise leniency in dealing with affected individuals whose premium payments may appear tardy due to the disruption of services such as mail, telecommunication, as well as the loss of property."
The directive also said that insurers that processed lawful cancellation or nonrenewal notices during the previous 10 days are encouraged to "comply with the spirit of the cancellation or nonrenewal laws to ensure that policyholders impacted by legal adverse underwriting decisions have sufficient time to address their insurance needs."
Was this article valuable?
Here are more articles you may enjoy.