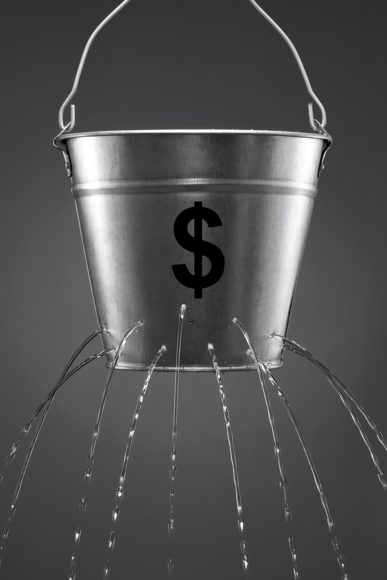 Florida's home insurers hope the public doesn't blame them as they implement rate increases, initiate coverage changes and nonrenew policies.
They say they have no choice after the Florida Legislature for the fifth year in a row failed to address the crisis in water damage claims abuse.
"We keep saying help us try to solve this problem," said Michael Carlson, president of the Personal Insurance Federation of Florida.
AOB will ultimately be addressed by the marketplace if lawmakers don't do anything
Since lawmakers reneged on enacting reforms, insurance carriers are now taking matters into their own hands and the state's regulator is warning consumers to be prepared.
"We will continue to see homeowners' insurance companies raise their rates for our consumers in a best-case scenario, and in a worst case scenario just simply stop offering their products in certain regions of the state," Insurance Commissioner David Altmaier told the Florida Cabinet last month.
Altmaier said that worst-case scenario has the potential to "undo a lot of the great work" that has been done in depopulating the state-run insurer of last resort, Citizens, which has taken the brunt of the abuse, particularly in South Florida.
"This remains one of our number one priorities on the property and casualty side," Altmaier said.
He was referring to escalating assignment of benefits (AOB) abuse from unlicensed water remediation and roofing contractors working with attorneys to cash in on a homeowners' insurance policy for water damage claims. The problem has begun to spread to other segments of insurance, with auto glass claims using AOBs also on the rise.
The Florida Department of Financial Services has stepped up its abuse investigations. Former Florida CFO Atwater told Insurance Journal in May before he left office that the DFS is counting on the industry to alert it to any abuse it sees happening.
"This is a real financial crime. These people are making money off of these really exploited AOB claims –it is just sophisticated robbery from thousands of people who are having to embed that cost in their next premium payment. It is real," Atwater said.
Insurance carriers say the marketplace has no choice but to respond by moving to cover the costs.
They are raising rates for homeowners' policies across the state but say that is not enough after several years of the unchecked AOB abuse. So they are also appealing to the Florida Office of Insurance Regulation (OIR) to be able to do more.
"AOB will ultimately be addressed by the marketplace if lawmakers don't do anything. The question is how harmful is that to a policyholder that isn't out to cheat an insurance company – and it is harmful," said Scott Johnson, who has worked on insurance issues for 40 years and currently runs his own consulting firm, Johnson Strategies. "AOB is the worst crisis I have seen."
Citizens led the pack in lobbying for reform this past session, warning Florida lawmakers that without it the insurer's policy count will start to climb again after years of depopulation efforts, and that homeowners could expect to see statutorily allowed rate increases of up to 10 percent for the foreseeable future.
Last month the warning became a reality when Citizens announced it would seek an overall statewide rate increase again this year, citing AOB as the reason. Citizens also said it would submit a series of policy changes to the OIR that it hopes will reduce claims costs for nonweather water losses.
Among the major policy changes is a $10,000 cap on water loss repairs for customers who decide not to participate in Citizens' Managed Repair Program.
Other policy changes include expanding obligations to third parties that accept an assignment of benefits. Currently, contractors who accept an assignment are not bound by the same obligations, including allowing Citizens adjusters to inspect a claim in a timely manner or providing proof that a loss has occurred.
"We were hoping for legislative change and a surgical solution," said Barry Gilway, Citizens president/CEO and executive director. "Given that this did not occur in 2017, we cannot wait for the trends to worsen and take no corrective action."
Commissioner Altmaier told the Cabinet that OIR is discussing changes to policy forms "in an attempt to curb what we believe are an unacceptable rise in costs in this market."
Many insurers in the state are watching and waiting to see what happens with Citizens proposals, and will base their own requests to OIR on what is approved for Citizens.
"We will see further rate increases being filed [by insurers]. But as far as doing their due diligence as an insurance company, they will pursue whatever avenue they can get," said Logan McFaddin, regional director for the Property Casualty Insurers Association of America (PCI).
Managed Repair, Preferred Vendors, Premium Discounts
Citizens is already employing one strategy – a managed repair program that provides its policyholders with free water extraction and drying services if they have a nonweather-related water loss. The Citizens Managed Repair Program also includes access to a network of licensed contractors through Contractor Connection. Policyholders can use the network to find a contractor to repair damage to its pre-loss condition with repairs guaranteed for a minimum of three years.
Citizens policyholders who do not want to use the program can hire their own contractors to do permanent repairs, but reimbursement may be limited to $10,000 starting in 2018, if approved by Florida regulators.
Other companies are exploring managed repair or preferred vendor programs as well.
Castle Key Insurance Co. and Castle Key Indemnity Co., Allstate Insurance subsidiaries that write about 2 percent of Florida's homeowners market, offer preferred vendors to customers in the event of a claim.
"Who the customer chooses to work with on repairs is entirely their decision, however we do make vendors available if the customer does not have a contractor of choice," said Cathy Mayo, Allstate Florida Region's Field Corporate Relations manager.
"Preferred vendor programs are definitely helpful because an insurer is not going to use a vendor that turns around and sues them – it gets rid of that motivation to have an attorney enter the agreement," said PCI's McFaddin. "Other insurers could follow what Citizens does if they can make headway with OIR."
In a statement to Insurance Journal, OIR said it wouldn't comment on the Citizens filing, but anticipates that a public hearing will be held for Citizens annual rate filings, "where this issue may be presented in more detail by the company."
OIR did say that it has approved some managed repair programs for other carriers in the past as allowed under Florida statutes, but hasn't seen any new filings recently.
Those outside the industry – including public adjusters and law firms – have voiced opposition to such programs, saying they restrict policyholder rights.
Johnson says that response is not surprising.
"Guess I would say that too if I was a public adjuster or trial attorney. What is fair to them is something that inflates the claim by at least 20 percent because that's how they get paid. What's fair to an attorney is if there is a controversy. They need the conflict because that's how they make their fees," Johnson said.
He noted that more than half of water losses have been handled by firms that don't use an AOB and there have not been consumer complaints on the work done. Preferred vendor programs are a tool for carriers to minimize their AOB losses, he said.
"Insurance companies are responding to the crisis by doing what they can to guide people to providers that don't use AOBs," he said.
Tampa-based VetCor, which provides restoration services across the state, works with 17 carriers as a preferred vendor and said it has never used an AOB on more than 2,200 jobs in its three years in business.
"There are disreputable contractors saying they can't perform work because of big bad insurance carriers. That is accurate if you are going beyond the scope of needed work. These contractors are creating an adversarial relationship," said Paul Huszar, president, VetCor LLC, which provides new careers for military veterans no longer on active duty.
Huszar said his business relies on referrals from carriers, which he said are "usually legitimate claims from people who need help."
He said his company has found itself becoming an advocate against AOB abuse, including letting carriers know if they see abuse taking place.
"There have been a few incidents where we have been called to put a tarp on a roof and we get out there and there is no damage. The customer says, 'someone told me to put a claim in and I'll get a new roof.' If we see that we call the insurance company and let them know something smells funny. We represent consumers if we think it's fraud and we represent carriers if they are getting screwed," he said.
Huszar said all affected parties need to work together in fighting AOB abuse, and managed repair and preferred vendor programs are just one option until lawmakers take up the issue.
"The companies have to do something to combat uncontrollable rising claim costs from AOB," he said. "But frankly, without legislation this problem is not going to be solved."
Companies are also looking at premium discounts for customers who take proactive measures to protect against water damage, such as outfitting their homes with water damage protection systems.
Neil Schwartzman is the owner of the Coral Spring, Fla.-based company H20 Protection, which sells PipeBurst Pro water damage prevention technology. The Whole Home Water Detection product works by detecting when a pipe bursts and shutting off the main water supply almost immediately to prevent water damage.
Schwartzman said there has been increased interest from carriers in the last several months as they try to find new ways to reduce AOB losses. He said several dozen, mostly high-value homeowner carriers, already offer incentives to have this type of a program.
He is currently working with several Florida insurance carriers seeking approval from regulators to offer premium discounts when a system is installed.
"If the [water damage protection] discount was available to all in Florida, then systems would be installed [and] the number of water damage claims would be reduced significantly," Schwartzman said.
What Comes Next?
The industry and regulators agree that substantial progress has been made in educating on the abuse. Commissioner Altmaier said this year's visibility and media attention has put his office in a good position for proposals to be heard during the 2018 legislative session.
McFaddin said the industry did an "impeccable job" staying on message this session and supporting the OIR and Citizens proposal, which died shortly after being introduced in a Senate committee.
Even though the reforms failed, McFaddin said the industry learned that working together is an effective strategy and that needs to continue.
McFaddin added that at least next year the industry won't have to "waste time educating the legislature" about the abuse because it is now widely known and watched.
"Will we get something done for sure, 100 percent?" she asked. "I can't say that, but I am hopeful – optimistically hopeful."
Former CFO Atwater said the industry did a better job of getting its message out this session, but there is still "tremendous rate sensitivity" among consumers.
The industry, he said, has not effectively communicated why AOB abuse is translating into higher rates and, until then, consumers will not support legislative efforts.
"I think consumers believe that the rates come [because] the insurance company just wants more rates and the government just keeps giving it to them. I don't think that most consumers understand that these losses are required to be built into the rate filing. And they're going to be granted," he said.
He urged the industry to share with the public "the actual evidence that it has in its databases" on the magnitude of the losses that are being built into rates.
PIFF's Carlson said carriers' data is out there through OIR's data call done in 2016, and Citizens plethora of public information on rising losses, claims and litigation. He said some lawmakers have accused the industry of not being transparent to avoid fixing the issue.
"What else do you need us to give you that you don't have? I fear that is a political request and not a policy request," he said.
Until the next session, the industry and regulators say all they can do is continue to beat the drum about AOB abuse and take steps to protect company solvency and their policyholders.
"I do believe there is light at the end of the tunnel," Altmaier told Florida Cabinet members. "I do believe there are ideas on the table that not only maintain consumer protections and their ability to have their claims paid, but also protects their ability to pay affordable insurance rates and shop insurance products across a wide range of carriers."
Related:
Topics Carriers Florida Legislation Profit Loss Claims Contractors Homeowners
Was this article valuable?
Here are more articles you may enjoy.