With two Florida landfalls in the same day, Hurricane Irma's destructive wind and flood damage could cost up to $65 billion for both insured and uninsured losses, according to a recent estimate by CoreLogic.
Residential property flood loss is estimated at up to $38 billion, CoreLogic reported, noting that includes storm surge, inland and flash flooding in five states – Florida, Alabama, Georgia, North Carolina and South Carolina.
80 percent of the flood damage is uninsured, the company said.
Reported insured flood loss for commercial properties could top out at $8 billion.
AIR Worldwide estimated insured losses for the U.S. States resulting from Irma will range between $25 billion – $35 billion.
The catastrophe modeling firm noted the hurricane-force winds extended 80 miles from the eye and tropical storm–force winds extended more than 400 miles, covering the entire state and driving storm surge into both the Atlantic and Gulf coasts.
Downed trees, signs and utility poles and flooded or debris-strewn streets could be seen in the southern regions of the state, AIR Worldwide reported.
Karen Clark & Company estimated losses in the U.S and Caribbean at $25 billion. Of the $18 billion insured loss in the U.S., the majority is in Florida, followed by Georgia, South Carolina and Alabama, KCC reported.
As of Thursday, Sept. 21, the Florida Office of Insurance Regulation reported more than 397,000 residential property claims and just over 17,000 commercial property claims had been filed. Including all types of losses, total estimated insured losses thus far had passed the $3 billion mark. OIR has been updating claims data daily.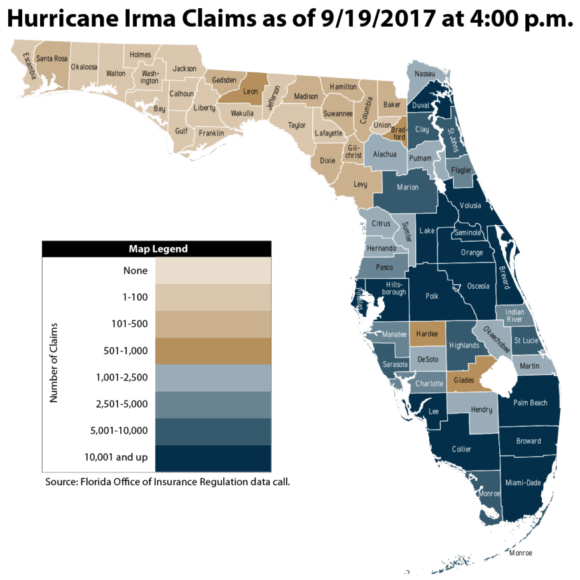 According to A.M. Best, the top five homeowners' insurers in Florida are: Universal Insurance Holdings Group, Tower Hill Group, State Farm, Federated National Insurance Co., and Citizens Property Insurance Corp.
In response to the storm, Universal Property & Casualty Insurance Company reported it has more than $300 million in surplus, as well as a catastrophe reinsurance program that provides $2.65 billion in coverage to cover an event like Hurricane Irma. The insurer stated its projected losses from the hurricane are considerably lower than the limits of its catastrophe reinsurance program. UPCIC has not reported on the claims it has received to date.
As of September 18, Tower Hill reported receiving 20,000 claims resulting from Irma. The company has 300 catastrophe adjusters stationed in Florida. The insurer commented that many of its customers reported light to moderate damage, with most claims not requiring a visit from an adjuster before settlement.
As of September 14, State Farm reported it had received 26,700 homeowner and 7,700 auto claims from Irma.
Federated National Insurance Company and Monarch National Insurance Company (partially owned by Federated National) both write homeowners' insurance in Florida, according to a press release issued after Irma. Each company purchases its own separate reinsurance program. Federated National's single event pre-tax retention for a catastrophic event in Florida is $18 million. Monarch National's reinsurance program covers Florida exposures and all private layers of protection have prepaid automatic reinstatement protection which affords Monarch National additional coverage for subsequent events. Neither company reported the claims it received resulting from Irma to date.
Citizens Property Insurance began opening catastrophe response centers across Florida to handle Irma claims. The state-run insurer has not released claims figures to date.
Texas-based Interstate Restoration, a disaster restoration firm, reported it had 90 employees stationed in Florida prior to the storm, with another 60 new hires ready to go.
CEO Stacy Mazur said the firm's workers face the same challenges Florida residents are experiencing.
"Those challenges include lodging, power outages and scarcity of fuel," said Mazur.
An additional 500 subcontractors in the southeast U.S. will join the Florida crew, he said.
This story has been updated from an earlier version that first appeared on Insurance Journal's sister site, ClaimsJournal.com, on Sept. 21.
Topics Florida Carriers Catastrophe Profit Loss Claims Flood Reinsurance Hurricane Property Market
Was this article valuable?
Here are more articles you may enjoy.