A group of insurance and risk management professionals are working together to make a difference in one of North Carolina's largest cities.
The group, Community Matters: Insurance Partners of Charlotte, started in 2012 to help raise funds to build a new domestic violence shelter in the community. Fast forward five years, and Community Matters consists of 70 insurance partners, including carriers, brokers, wholesalers, risk managers and even those just affiliated with the industry like law firms. The participating organizations are predominantly in the Charlotte area, but there are also nationwide companies involved.
"Our industry wants to give back. That's what Community Matters is," said Tom Lott, executive vice president and head of Sales & Marking for AmWINS Group, and part of the Community Matters Steering Committee. "It's 100 percent volunteer, done by us insurance geeks."
Lott said Community Matters started because there was a desire from those in Charlotte's insurance industry to make a meaningful difference in the community.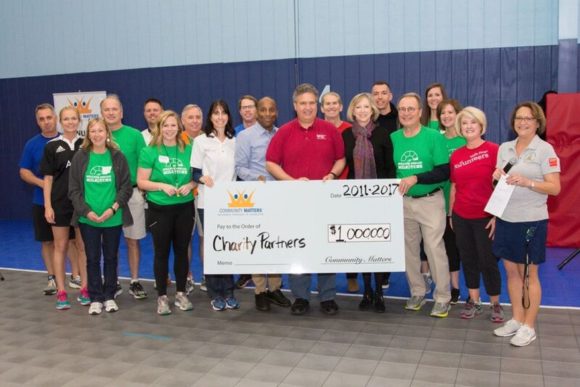 In its first two years, Community Matters raised more than $200,000 to build a new domestic violence shelter in Charlotte. The group then began working to raise money for nonprofits helping the homeless in the city. Lott said Community Matters has chosen its causes by what resonates with the industry – domestic violence, homelessness, and now substance abuse – and focuses its efforts on one cause at a time.
This year, it reached a milestone of $1 million raised for select charity partners in the Charlotte community. It raises funds by holding various events throughout the year, including a dodgeball tournament, golf tournament, annual dinner and more.
Lott estimated at least 2,000 people participate in Community Matters events each year. The organization is run 100 percent by volunteers, he said, with all costs outside of those for the events and, of course, insurance, going toward the cause.
"It's about more than just the donations – it's about so many people who want to give back and this has created a platform for people to do that together," Lott said.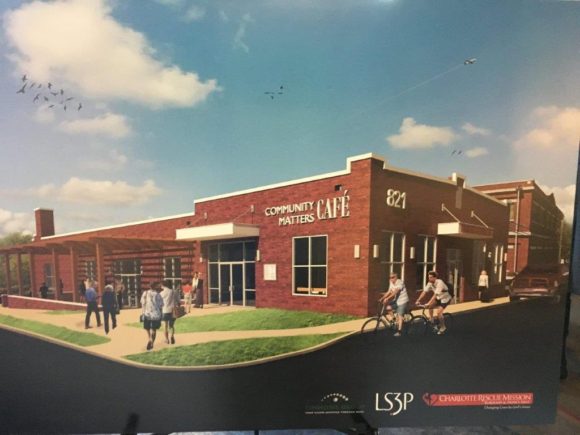 Community Matters' next project is its biggest one yet. The group has partnered with the Charlotte Rescue Mission, a provider of residential recovery programs for people struggling with addiction and poverty, to turn a dilapidated building in the city into a cafe. Community Matters has pledged $1 million over the next five years to build The Community Matters Cafe, a full-service restaurant and coffee shop.
"Community Matters Cafe will provide our program graduates with the life skills they need to function in society," says Tony Marciano, president/CEO of Charlotte Rescue Mission. "The cafe will create a safe laboratory where these new life skills can be tested, learned and acquired."
Lott said the hope is that the cafe will also become a new spot for people to gather for business and community meetings.
"The plan is that community groups will be able to meet there and tackle other important issues in Charlotte," he said.
Community Matters Cafe will be located in the shadow of Bank of America Stadium and hopes to open during the 2018-2019 Carolina Panthers football season.
Lott said what Community Matters has accomplished in the Charlotte community is a true testament to the character of those who work in the insurance industry. He thinks the initiative could easily be replicated in other cities, as well.
"I think that is the story to be honest – this really happened without much effort," he said. "We just had an idea and formed a platform for people to come together and it took off because our industry is in the business of giving back, whether it be through business or charitable efforts."
Topics Market North Carolina
Was this article valuable?
Here are more articles you may enjoy.