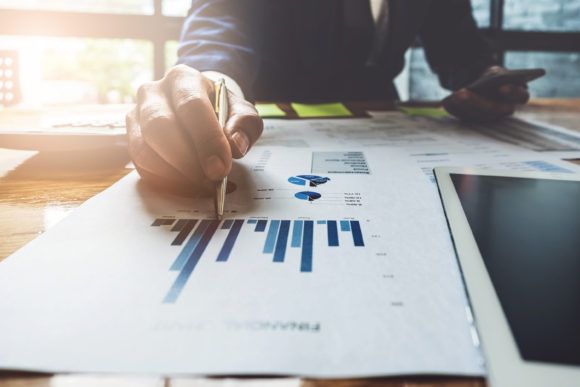 A company that rates many Florida property/casualty insurers believes hurricane losses and assignment of benefits litigation during 2017 could affect some insurers' financial ratings.
Ratings company Demotech says it will wait until it has analyzed year-end financial information, revised business plans and operating agreements for 2018 for more than a dozen Florida property insurers before deciding whether to affirm or downgrade their financial stability ratings (FSRs).
The Ohio-based company that rates more than 50 Florida insurers expects, however, that the combination of 2017 catastrophe losses and assignment of benefits litigation, as well as other recent changes with the potential to impact insurers, could lead to ratings downgrades for several companies.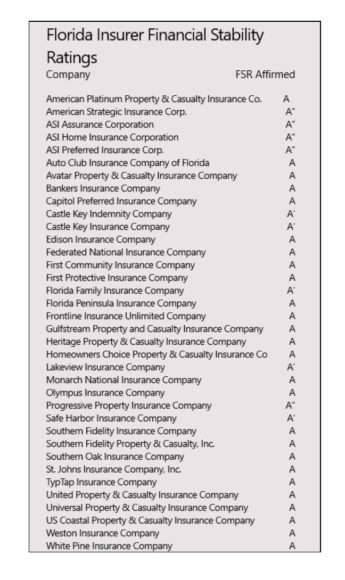 In a FSR update released Feb. 9, Demotech affirmed the 'A' ratings of more than 35 Florida domestic insurers and kept the 'A' ratings of 16 others in place but did not affirm them (see charts).
Demotech said the 35 affirmed companies had submitted the necessary financial information, including anticipated year-end financial results, and made other relevant information available to Demotech for it to confidently affirm their FSRs. The 35 affirmed insurers had also been subject to ongoing review and analysis by Demotech, the company said.
For the remaining 16, Demotech has indicated it will wait until after it receives their March 1 year-end filings to evaluate their FSR and potentially issue downgrades.
Demotech President Joseph Petrelli told Insurance Journal the ratings company has agreed it will not make any ratings decisions on these 16 Florida insurers, which currently have 'A' ratings, until it has reviewed each company's finalized year-end 2017 financial statements, revised business plans and operating agreements for 2018.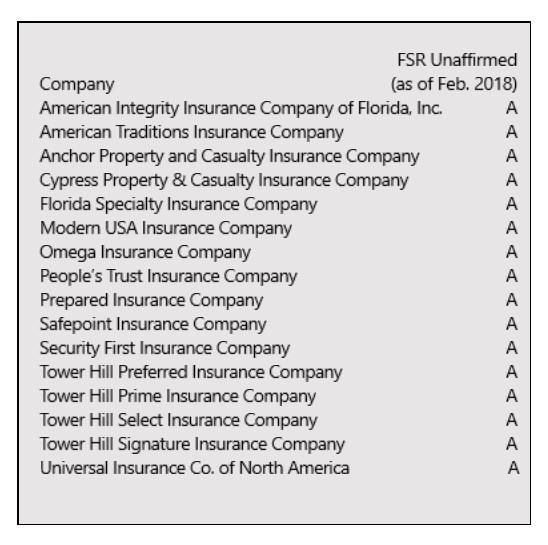 "The companies that have not yet been affirmed have told us that their year-end statement will look a certain way, but they are concurrently doing things to make changes to their business model or improve their financials," Petrelli said.
Bob Warren, client services manager for Demotech, said the firm will take a complete look at the impact of the recent tax law changes, risk-based capital (RBC) requirements from the National Association of Insurance Commissioners on each individual company, and each company's business plan revisions and operating agreements to improve their financial status going forward.
"It doesn't mean that the other companies that we did not affirm were not giving us this info or they were ignoring us – we have had ongoing conversations with these companies and were getting their projections for year-end," Warren said. "We just weren't certain what it would look like and are waiting to see what the filings are on March 1."
Petrelli said Demotech does expect some of the 16 companies could be downgraded if they are not taking actions to mitigate current issues impacting Florida insurers. The most significant of those issues right now is AOB litigation and the effect it is having on insurer reserves and loss ratios.
"They have made commitments to us about what they are going to do – including cash infusions, changing of their business model or extra reinsurance – to maintain their rating," Petrelli said.
Petrelli said some of the 16 companies are more at risk than others and need to do more to avoid a ratings downgrade, but he noted Demotech expects all 16 will make some changes in an attempt to maintain their current 'A' rating.
"There is a big difference between a company being financially stable and a company having an 'A' rating. These sweet 16 need to do something to show us that their assertions [to us] have been met. As long as they do that they will be fine," Petrelli said. "If they haven't shown us their assertions – or proof of assertions – there could be revisions."
Last year, Demotech suspended its Florida insurer rating criteria because of what it called an uncertain operating environment, referring to AOB-related losses and recent court decisions. It said at the time it would begin rating Florida companies on an individual basis.
Warren said Demotech closely monitored each Florida insurer throughout 2017, and while Hurricane Irma did bring significant losses to the insurance industry it was primarily a reinsurance event so there weren't any big surprises for companies financially.
When it comes to AOB, Warren said Demotech is concerned that some individual insurers still look at it as a regional problem and may not be reserving appropriately or getting adequate rate to manage losses.
Petrelli said insurers with that mentality could have problems down the road.
"If someone is telling us they think they are immune to AOB and it is not influencing them, we want to see evidence of that because we think it is a statewide issue and statewide problem," he said.
He also noted that at this point, any AOB fix that comes from the Florida Legislature will not be enough to convince Demotech that it will no longer be an issue for insurers given how active the Florida judiciary has been at overturning other legislative decisions.
"We don't think [a legislative solution] counts until the Supreme Court affirms it – it will be challenged immediately," he said. "We will make no mitigating decisions on the impact of AOB until such time the Florida judiciary affirms the law."
For the most part, however, Demotech says Florida insurers have been taking action with policy endorsements, inserting rules in their claims procedures, not appointing agents in territories they do not want to do business in, and also raising rates.
This has helped most of the companies it rates to remain solid.
"Despite the damage inflicted by Mother Nature and the Florida judiciary, the overall financial stability of Florida-focused property insurers reviewed and rated by Demotech remains intact," Demotech said.
Related:
Was this article valuable?
Here are more articles you may enjoy.