The Florida Office of Insurance Regulation (OIR) will conduct a rate hearing to receive public comment on the proposed rate changes from Citizens Property Insurance Corp. for its business in the Coastal Account (CA), Commercial Lines Account, and Personal Lines Account (PLA). These accounts include, but are not limited to: commercial property, homeowners, mobile homeowners, and the dwelling fire lines of business.
The rate hearing will be held Thursday, March 14, 2019 at 5:00 p.m. in the Kovens Conference Center, Bayview Ballroom North, Room 214B at Florida International University (Biscayne Bay Campus), located at 3000 N.E. 151st Street in North Miami.
Citizens filed for a statewide average increase of an average statewide 8.2 percent for personal lines policyholders – homeowners, condominium owners and renters – in December. The Florida insurer of last resort's said the increase reflects the continued impact of runaway litigation costs that are driving up rates across the state.
The proposed rate changes filed by Citizens are as follows: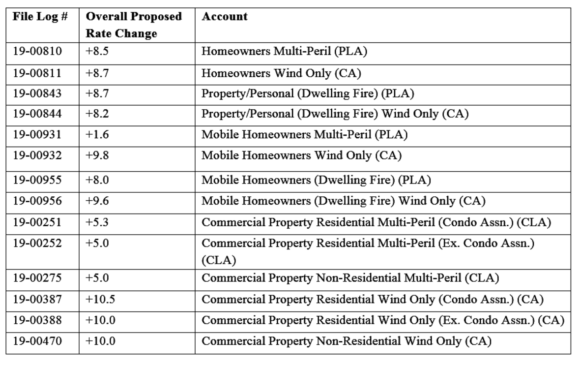 OIR said there are no proposed rate changes for sinkhole coverage and the requested rate increases in the chart above are not uniform. The effective date of the proposed rate changes for all three accounts (Coastal, Commercial Lines, and Personal Lines) is Sept. 1, 2019.
The general public can submit comments about Citizens' proposed rate filings by sending an email to: ratehearings@floir.com with "Citizens" in the subject line of the email. Comments will be accepted for consideration on rate filings until 5:00 p.m. (Eastern Time) on March 22, 2019. Under Florida law, written communications to the OIR are public record and subject to disclosure, including being available to the public and media.
The Florida Office of Insurance Regulation has primary responsibility for regulation, compliance and enforcement of statutes related to the business of insurance and the monitoring of industry markets.
Source: Florida Office of Insurance Regulation
Was this article valuable?
Here are more articles you may enjoy.