Jackson Sumner & Associates (JSA) has appointed Andrew Davis as the North Carolina Marketing representative for the company.
Davis is a native of Belmont, N.C., who has been with JSA since 2017 when he joined the company's Transportation team as an assistant underwriter and later moved to the P&C team as a Renewal underwriter.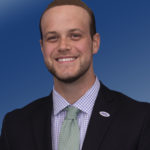 Davis currently serves on the IIANC iLead Committee, and on the Board of Directors for Appalachian Wesley Foundation and Carolina Cross Connection.
Davis will report directly to JSA Director of Marketing Brantley Saunders and his territory will include most of North Carolina with a few key locations in South Carolina. Davis will be based out of Durham, N.C.
Jackson Sumner & Associates (JSA) is an Excess and Surplus Broker that began in 1981 in Boone, North Carolina. JSA offers a range of insurance products including property, casualty, automobile, garage, professional liability, workers comp, and personal lines. It is licensed to do business in North Carolina, South Carolina, Virginia, Georgia, Tennessee, and Maryland
Was this article valuable?
Here are more articles you may enjoy.