New policyholders coming into Florida's insurer of last resort will not face higher rates than existing insureds under an order issued by the Florida Office of Insurance Regulation.
The regulator's decision comes after Citizens Property Insurance Corp. President & CEO Barry Gilway said at its rate hearing last month that it is receiving about 5,000 new policies per week as the Florida market continues to tighten.
OIR instead established lower rate increases than what Citizens recommended for its 2021 personal and commercial property insurance policies.
Under the order signed by Insurance Commissioner David Altmaier, Citizens homeowners multi-peril policy rates will increase by an overall statewide average of 3.2% while commercial residential multi-peril policies will increase by an overall statewide average of 4.8%. Citizens filed increases for these lines of 6.2% and 7.8%, respectively.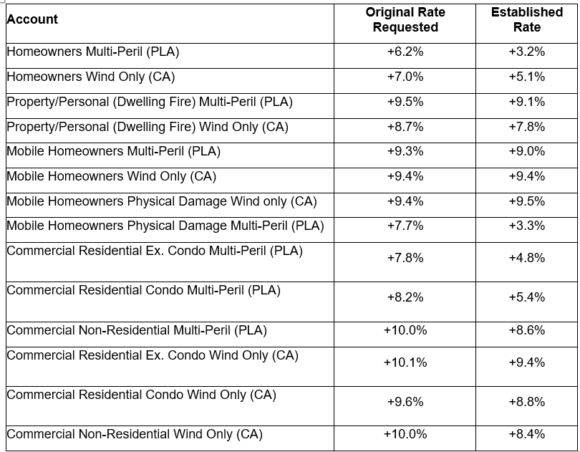 OIR did not approve Citizens recommendation that new business policyholders be charged actuarily indicated rates while still allowing renewing policyholders to receive increases subject to the 10% statutory glidepath.
"[OIR] finds the justification for this provision to be insufficient and that all policies, whether new or renewal, should be subject to the same capping under … Florida [law]," the order states.
OIR further noted that when the glidepath was initially recommended by the Citizens Property Insurance Corp. Mission Review Task Force in 2009, "there was no distinction between new and renewal rates in the final report of the task force."
The recommendation would have increased rates for new business by an average of 21%, Citizens said previously.
Citizens' recommendation that decreases for new business policyholders be capped at 0% and that new business rates in Monroe County be capped at 10% above approved rates was also not approved. OIR said rates for policies in Monroe County should be subject to the same rating methodology and statutory glidepath as for all other counties.
Also disapproved by OIR was the inclusion of a risk factor provision, described by Citizens as an estimate of an extra amount the insurer should charge for the cost of catastrophic risk the insurer is assuming. OIR said the justification for including a risk factor in Citizens' rate filings was insufficient.
The effective date for the approved rates for both new and renewal policies is Aug. 1, 2021.
Citizens submitted its filing for a statewide average rate increase of 7.2% for personal lines policyholders – homeowners, condominium unit owners, mobile homeowners, dwelling, and renters to OIR in January. The recommended commercial lines increase was 9.5%.
Citizens is required by law to recommend actuarially sound rates while complying with a legislative glide path that caps individual rate increases at 10%. The insurer's uncapped 2021 rate indication is 25.9% for homeowners and 85.6% for commercial lines.
The proposed rate recommendations came after the Citizens Board deferred action on a slate of rates in December that called for an average 3.7% increase in personal lines coverage, including a 2.2% increase in homeowners coverage. The board directed Citizens actuarial staff to work with OIR to address the growing disparity between Citizens rates and those charged by private insurance companies in many areas of the state.
OIR held a virtual public rate hearing on March 15, 2021, to receive testimony from Citizens in support of its rate recommendations and provide members of the public an opportunity to comment on the rate filings.
At the hearing, Gilway painted a dire picture of the Florida domestic market, noting that five years of sustained losses from excessive litigation, contractor schemes, major catastrophes and the increasing cost of reinsurance has led to diminished insurance capacity and higher costs for consumers. Florida carriers' net underwriting losses for 2020 will exceed $1.6 billion, Gilway said, with income losses totaling nearly $840 million.
As a result, Florida insurers are taking significant steps to reduce their exposure in areas where litigation rates and reinsurance costs are high, he said, which is leading to an increase in Citizens policy count.
"The reality is the marketplace in Florida is shutting down," he told regulators.
Citizens is growing by 5,000 new policies per week, Gilway said, and is expected to reach a policy count of 700,000 by the end of the year as carriers continue to raise rates and cut back on capacity.
The insurer's rate of growth is further exacerbated by the competitiveness of its rates, Gilway said, noting that Citizens' homeowners policies are priced lower than the average private market rate 91% of the time.
"The capacity in the marketplace has shrunk to the point where unfortunately Citizens is becoming not the market of last resort but, in many cases, the market of first resort," he said, adding that is never the intention for a residual market mechanism.
Citizens has experienced operating losses since 2015, but has offset those losses with investment income earned from its $6.4 billion reserves, the company said. Since 2013, Citizens' combined operating losses have approached $690 million. That figure was offset by $726 million in investment income during the same period.
"Citizens presented a set of recommendations for 2021 rates that reflected efforts to make Citizens rates more competitive with private carriers and maintain its position as Florida's insurer of last resort," said Michael Peltier, Citizens spokesman. "As it does every year, the Office of Insurance Regulation, reviewed those recommendations, made changes, and issued its final order following that review. We respect the decision."
*This story has been updated to include comment from Citizens
Topics Florida
Was this article valuable?
Here are more articles you may enjoy.