Though estimates of Hurricane Ida's impact on the insurance industry vary, both AM Best and S&P Global Ratings say losses will be manageable for insurers and that no rating actions are expected as a result of the powerful storm that swept ashore in Southeast Louisiana on Aug. 29.
CoreLogic, a California-based provider of global property information and analytics, estimates that Ida's overall economic losses — both insured and uninsured — on residential and commercial properties in Louisiana, Mississippi and Alabama will be between $27 billion and $40 billion.
CoreLogic estimated insured wind losses for those three states at between $8 billion to $12 billion. Insured residential and commercial property flood losses — for both storm surge and inland flooding — are pegged at $6 billion to $9 billion for the same area. Uninsured flood loss will likely come in at between $8 billion and $12 billion, CoreLogic said.
Of the three states, Louisiana is expected bear the brunt of the losses — more than 90% — primarily in the nine parishes in the New Orleans-Metairie-Hammond metropolitan area, as well as in Ascension, Lafourche, Livingston and Terrebonne parishes, according to CoreLogic.
In a media announcement released Aug. 31, Karen Clark & Co. estimated insured losses in the U.S. from Hurricane Ida will near $18 billion for damage to privately insured residential, commercial and industrial properties and automobiles. Boats, offshore properties and National Flood Insurance Program (NFIP) losses are not included in Karen Clark & Co.'s initial estimate.
The catastrophe risk modeling firm noted that the Southeastern Louisiana parishes of Terrebonne, Lafourche and Jefferson suffered major wind damage from the Category 4 storm. "Multiple commercial buildings including schools and hospitals in the area experienced shattered windows and major damage including complete roof and wall collapse," the firm said in a media release. In addition, while New Orleans' improved levee system generally performed well, a "small levee near Lafitte overtopped, resulting in extensive inundation, and LaPlace, located near the shores of Lake Pontchartrain, also experienced significant flooding."
Ida's Inland Path May Reveal Hidden Risk, Test Mapping Methods of Hurricane Floods
Hurricane Ida made landfall on the Southeast Louisiana coast on Aug. 29 as a swift-moving Category 4 storm with maximum sustained winds of around 150 mph. Ida hit the state on the 16th anniversary of Hurricane Katrina's landfall as a Category 3 storm in the same geographic region. While Katrina's winds were not as intense as Ida's, the slow-moving 2005 hurricane covered a more widespread area and ushered in a much higher storm surge. Katrina was blamed for 1,800 deaths and caused levee breaches and catastrophic flooding in New Orleans.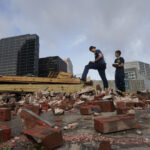 According to the Insurance Information Institute, Katrina remains the costliest U.S. hurricane on record. The massive 2005 storm caused $65 billion in insured losses when it occurred, an amount that includes losses from the National Flood Insurance Program (NFIP), according to the I.I.I. In 2020 dollars, losses resulting from Katrina totaled $86.6 billion.
AM Best surmised that the commercial lines sector could be significantly affected due to Hurricane Ida's path, which veered toward the New Orleans area. "Property damage and business interruption losses may contribute more heavily to overall losses than did Hurricane Laura last year, which had a greater impact on personal lines business. Louisiana insurers are already trying to move past a 2020 spike in weather-related losses, with more than 300,000 claims attributable to Hurricanes Laura, Delta, and Zeta," AM Best said in its commentary on Hurricane Ida.
The ratings agency also noted that "a surge in demand for materials and goods post-Hurricane Ida could increase the level of (re)insured losses meaningfully, especially in light of a 5.4% rise in the U.S. consumer price index from roughly a year ago."
Even so, AM Best said Hurricane Ida's total losses "are not expected to impact overall capital levels due to the number of regional players in the market who will likely be able to cede off larger losses to the reinsurance sector."
S&P Global Ratings reported on Sept. 1 that the primary causes of damages from Ida would likely result from wind and rain, rather than storm surge. S&P said that among the P/C insurers it rates, direct premiums written are "split roughly 60/40 between personal and commercial lines, so the most affected line will be residential property. But commercial property losses will be substantial and could be exacerbated by the widespread extended power outages across much of southeastern Louisiana, including New Orleans."
The ratings firm added it did not expect significant losses in the auto insurance sector because areas identified as most vulnerable to flooding were under mandatory evacuation orders.
New Orleans Mayor LaToya Cantrell has estimated that about half of New Orleans residents evacuated before the storm.
Extended power outages in Louisiana and Mississippi are expected to have a negative impact on claims. Like S&P Global and AM Best, Moody's Investor Service has noted that commercial lines will be particularly affected by power outages as commercial policies typically cover business interruption claims.
The Associated Press reported that "more than 1 million homes and businesses in Louisiana and Mississippi were left without power when Ida slammed the electric grid, toppling a major transmission tower and knocking out thousands of miles of lines and hundreds of substations."
Entergy Corp., the primary electricity provider in Southeast Louisiana said on Sept. 1 that power had been restored to 172,000 out of the nearly 950,000 Entergy customers that were affected by Ida. The company said in the Sept. 1 report on its website that it expected complete restoration in Mississippi that day. "In the Greater Baton Rouge area, customers who can safely accept power are expected to be restored by Sept. 8," Entergy said.
Topics Profit Loss Louisiana Market
Was this article valuable?
Here are more articles you may enjoy.