"Crouching Tiger, Hidden Dragon" star Zhang Ziyi settled a lawsuit for libel against a U.S.-based Chinese news website, which today apologized for false reports that she had sex with Chinese officials including ousted Politburo member Bo Xilai.
The case is Zhang Ziyi v. China Free Press, Inc., 12-5216, U.S. District Court, Central District of California in Los Angeles.
"These false reports about Zhang Ziyi should never have been published," Boxun News, owned by defendant China Free Press Inc., said on its website today. "As a result, Boxun News now renders its unreserved apology to Zhang Ziyi."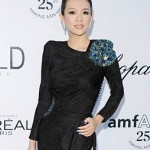 The actress starred in movies including "Rush Hour 2" and "House of Flying Daggers." Bo was ousted as Communist Party secretary of the municipality of Chongqing and sentenced to life in prison in September for embezzlement, taking bribes and abuse of power.
"Nearly 600 days and nights," said a statement issued on Zhang's verified account on Weibo, a microblog. "It may not be long for a defamation case, but it's enough to destroy a person's reputation and innocence."
The settlement was reached Dec. 12, according to a filing in Los Angeles federal court.
Zhang also sued two media outlets in Hong Kong last year over similar stories alleging she received millions of yuan to have sex with Bo and others. A summary assessment of costs hearing is scheduled for next month.
Copyright 2020 Bloomberg.
Was this article valuable?
Here are more articles you may enjoy.