Two New Mexico cities are preparing to begin operating public charging stations for electric vehicles.
Last week, Gallup opened a Tesla Motors supercharger station and Farmington is scheduled to open one next month, The Farmington Daily Times reported.
The two stations are part of Tesla Motors' mission to expand its supercharger stations nationally. The Palo Alto, Calif.-based company is the maker of the all-electric Tesla.
Currently, there are 44 stations in the country, according to the company's website. There are 18 down the West Coast, nine along the East Coast, 12 in the Midwest and five in Texas, according to the website.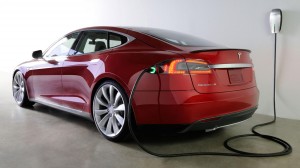 Tesla spokesman Patrick Jones said the cars range from $69,000 to $130,000.
But before 2014, the company plans to open a belt of almost 50 more stations that stretch coast to coast, according to its website. A Tesla car can travel 265 miles before it requires charging, Jones said.
Supercharger stations allow Tesla owners to charge half their battery in 20 minutes. Tesla now has enough Supercharger stations for free travel between San Diego and Vancouver, and it wants to have enough stations for cross-country driving in the U.S. soon.
While people are plugged in and getting a charge, they're actually in town and eating at restaurants, shopping at local places," Jones said
Farmington Mayor Tommy Roberts said the supercharger station will give visitors another reason to visit the Four Corners, and it will give Farmington another tool to market San Juan County as a tourist destination.
"We're just going to be positioned nicely," he said. "There aren't going to be many of those (supercharger stations) in New Mexico and in the Four Corners region."
Ray Hagerman, CEO of Four Corners Economic Development, doesn't know any Tesla owners in Farmington, but he expects the station will prompt some to buy the expensive vehicles.
Tesla said it sold just over 5,500 of its Model S sedans in the July-September period.
The company said it plans to deliver 6,000 Model S sedans in the fourth quarter, for total sales of 21,500 this year. That's up from 2,650 sales in 2012, when the Model S went on sale.
It's not clear how many electric vehicles have been registered in New Mexico.
The Georgetown Climate Center says there are more than 900 charging stations in New England, New York, New Jersey, Pennsylvania, Maryland and the District of Columbia.
Copyright 2020 Associated Press. All rights reserved. This material may not be published, broadcast, rewritten or redistributed.
Was this article valuable?
Here are more articles you may enjoy.