The Idaho Supreme Court says a lien on cattle feed only lasts as long as the feed does, and doesn't apply to the animals that consume the food.
The ruling reversed a lower court's decision in a lawsuit between Farmers National Bank, a slew of feed suppliers and a defunct Buhl dairy farm.
The Times-News reported that the case began in 2011 after the feed suppliers claimed they were owed some of the proceeds from the sale of dairy cattle that the bank had repossessed.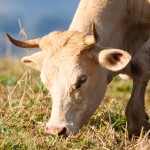 In May, Twin Falls County District Judge Richard Bevan ruled in favor of the feed sellers. But on Friday, the high court said a lien on animal food attaches only to the actual food, not to the animal that eats it.
The Idaho Supreme Court said the lien extended only to agricultural products and the proceeds of the sale of agricultural products, and that Idaho's law doesn't include livestock in the definition of "agricultural products."
"Had the legislature wished to include livestock in the definition of 'agricultural product' it easily could have," Justice Daniel Eismann wrote for the majority. "However it did not."
Justice Jim Jones dissented with the majority opinion, writing that while his fellow justices had a sound technical argument, the legislative history of the law dictates a different outcome. Jones also noted that his view of the legislature's action on the law may have been influenced by having grown up in the cattle-feeding business.
Bob Naerebout, executive director of the Idaho Dairymen's Association, said the organization agrees with the decision.
Had the court sided with the feed-sellers, Naerebout said, it could have become harder for other dairies to borrow money, ultimately lowering the value that farmers could borrow based on their cattle.
"It'll give lenders the confidence that they have a perfected first lien," he said. "It definitely will help the ability to borrow."
Copyright 2017 Associated Press. All rights reserved. This material may not be published, broadcast, rewritten or redistributed.