Arizona workers' compensation insurance provider CopperPoint Mutual Insurance Co. named Rick Jones executive vice president and chief operating officer.
CopperPoint is formerly SCF Arizona. Jones will be responsible for executing changes to CopperPoint's operations in support of long-term strategies while focusing on day-to-day activities.
Jones will play a role in CopperPoint's business development and expansion of products and services, and he will remain president of the company's subsidiaries: CopperPoint Premier, CopperPoint American, CopperPoint Western, CopperPoint General, CopperPoint National, CopperPoint Indemnity and CopperPoint Casualty, as well as Mountain West Agency Services.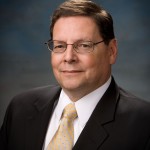 Jones has more than 30 years' experience in the insurance industry, beginning with risk management for a division of Teledyne. Prior to joining CopperPoint in 2006, Jones served as senior vice president of compliance and assistant secretary for CNA National Warranty Corp. In 1982, Jones opened the Arizona branch office of EBI Insurance Companies, and in 1986 moved to Corroon & Black as vice president of marketing.
Based in Phoenix, CopperPoint has a presence throughout Arizona.