A major blaze at a vacant downtown Salt Lake City, Utah apartment complex that could be seen for miles and brought onlookers from around the metro area caused at least $1.5 million in damage, fire investigators said Monday.
The cause of the four-alarm Sunday night blaze remained unknown, Salt Lake City Fire Department spokesman Jasen Asay said. Investigators can't begin digging through the ashes until inspectors determine if the remaining walls of the 40-foot-tall building are stable. They haven't ruled out arson, but Asay says it's too early to speculate.
No one was inside the building, and no one was hurt.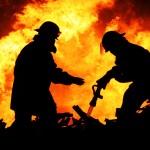 Plans called for the apartment complex to have 61 units and cover 64,000 square feet. It's unknown if the finished parking garage and foundation were damaged as well, Asay said. If they were, the cost of the damage could be even higher.
The construction company, U.S. Development, told the fire department that no workers were on site Sunday and there was no power or heating sources inside the building, Asay said.
Meanwhile, a 27-year-old man accused of impersonating a firefighter Sunday was not suspected of starting the fire, Asay said. Josh Murray was arrested after arriving at the scene wearing a bright yellow jacket that resembled what firefighters wear and pretending to be part of the firefighting crew, officials said. He was within a restricted area and telling people where to go, Asay said.
When confronted by police, Murray said, "I am with them," pointing to the fire crew, a probable cause statement shows. Murray had an ID card on display meant to deceive officers and was carrying a BB gun, the statement says. He was arrested on suspicion of impersonating an officer.
Murray has shown up trying to help at other smaller fires, but what he did Sunday crossed a line, Asay said.
"At fire scenes, there's a lot of chaos going on," the spokesman said. "He's just adding to the chaos. He's putting himself in danger and potentially other people as well."
It's not clear if Murray has an attorney yet. Efforts by The Associated Press to reach Murray were not immediately successful. Utah state court records don't show any significant criminal convictions in Murray's past.
The fire started just before 6 p.m. Sunday. Firefighters had the blaze under control within 90 minutes, though small flames continued until later in the evening, Asay said.
While they wait to be given access to the rubble, investigators are interviewing people in the area prior to the blaze and reviewing surveillance cameras from nearby businesses to see if the footage provides any clues. There is a large grocery store nearby, Smith's, that has several cameras, Asay said.
None other nearby buildings were damaged.
If inspectors determine the remaining walls need to be torn down, investigators likely won't be able to start sifting through the ashes until Tuesday.
The fire was one of the largest recently in Salt Lake City, just three others were of similar magnitude in the last two years, Asay said.
Exposed wood at the under-construction building allowed the fire to grow quickly, sending towering orange flames into the dark night sky. More than 100 people watched as firefighters fought the blaze.
"We had people throughout the valley who could see the flames who drove downtown," Asay said.
Copyright 2017 Associated Press. All rights reserved. This material may not be published, broadcast, rewritten or redistributed.