Two Granite Mountain Hotshots' families are seeking to obtain additional death benefits from a state retirement system for public safety workers.
The widows of Andrew Ashcraft and William Warneke filed claims last month with the city of Prescott, stating their husbands should be added retroactively to the Public Safety Personnel Retirement System.
City spokesman Pete Wertheim says a Prescott PSPRS board will hold a hearing May 21 to determine if Roxanne Warneke's claim holds merit.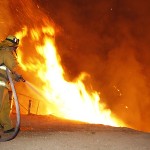 Wertheim says a hearing for Juliann Ashcraft's claim has not yet been scheduled.
Neither fallen firefighter contributed to the retirement fund.
The claims say both men worked the same hours as a full-time worker.
Prescott officials in January denied more than 100 damage claims seeking $662 million for property owners and relatives of deceased firefighters.
Copyright 2020 Associated Press. All rights reserved. This material may not be published, broadcast, rewritten or redistributed.
Was this article valuable?
Here are more articles you may enjoy.