A California Assemblywoman has introduced a bill to regulate ridesharing companies like Uber, Lyft and Sidecar.
Assembly Bill 2293, authored by Assemblywoman Susan Bonilla, D-Concord, would clarify existing insurance laws related to ridesharing service activities while supporting new business advancements, according to Bonilla.
The transportation network company business model allows drivers to use their personal vehicles to pick up and drive riders for a fee using a smartphone app, which the insurance industry has argued is using a personal vehicle for a commercial activity.
The personal automobile insurance policy is not designed or intended to be used for commercial activities and contains a specific exclusion for livery activities, the insurance industry and the bill's author argue.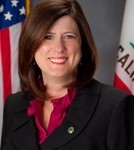 "As this new transportation option has grown and expanded, gaps in insurance coverage have been identified," Bonilla said in a statement. "My legislation will define when commercial activity begins and ends along with providing important disclosures to TNC drivers which will ensure that all parties are aware of the insurance policy coverage which is in place."
California Insurance Commissioner Dave Jones early this month recommended to the California Public Utilities Commission, which oversees TNCs in California, that TNCs should bear the insurance burden when they encourage drivers to use their personal vehicles to transport passengers for a profit.
TNCs have become a high profile topic in the last few months, in part thanks to a perceived gap in insurance coverage, and a New Year's Even incident during which a TNC driver under contract with Uber struck and killed 6-year-old Sofia Liu. Her family has filed a lawsuit against Uber. Uber issued a statement saying the driver, 57-year-old Syed Muzzafar, was not responding to a fare and didn't have a passenger in his car when he struck Liu.
The sticking point in the debate between TNCs and the insurance industry has been over a gap in insurance coverage during the period when TNC drivers have their smartphone app on but have not been matched with a ride.
TNCs were already required to have a $1 million commercial policy on drivers when giving rides or going to pick up a ride, but it was assumed that during this gap that TNC drivers' personal policies would be in effect.
AB 2293 would:
Require TNCs to disclose to drivers upfront that their personal insurance may not apply when engaging in commercial TNC activities;
Define in statute that TNC activities begin once the "app" is turned on and the TNC services end when the "app" is turned off;
Clarify that the TNC business company insurance is the primary insurance coverage;
Require TNCs' liability insurance to defend their drivers when the driver has a claim or accident.
AB 2293 is set to be heard in the Assembly Utilities and Commerce on Monday.
Was this article valuable?
Here are more articles you may enjoy.