Leavitt Group has hired Ryan Krauser in the agency's Reno, Nev. office as a business insurance agent.
Krauser's responsibilities include risk management, customer service, policy administration and general new business development.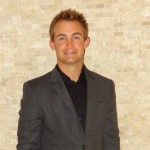 Prior to Leavitt Group, Krauser worked with a startup agency in Reno. He started his insurance career as a sales representative for Liberty Mutual Insurance.
Leavitt Group's Bay Area, Sacramento and San Jose offices in California, as well as its Reno office, are part of Jenkins Insurance Services.
Was this article valuable?
Here are more articles you may enjoy.