Climate conditions point to a near-normal or above-normal hurricane season in the Central Pacific Basin this year with patterns possibly affected by an El Niño weather pattern, NOAA's Central Pacific Hurricane Center announced.
The outlook for 2014 calls for a 40 percent chance of a near-normal season, a 40 percent chance of an above-normal season and a 20 percent chance of a below-normal season.
Authors of the outlook state that they expect four to seven tropical cyclones to affect the central Pacific this season, compared to an average season's four to five tropical cyclones, which include tropical depressions, tropical storms and hurricanes.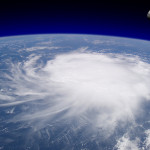 The outlook is based upon the expectation of El Niño developing during the 2014 hurricane season. El Niño decreases the vertical wind shear over the tropical central Pacific, favoring the development of more and stronger tropical cyclones.
Since 1995 the central Pacific has been in an era of low activity for hurricanes, but this pattern will be offset in 2014 by the impacts of El Niño.
NOAA issued its Central Pacific hurricane outlook at a news conference in Honolulu, and urged Hawaii residents to be fully prepared before the hurricane season, which begins June 1 and runs until November 30.
"I encourage the public to become weather-ready by signing up for weather alerts, developing a family emergency plan, and building an emergency kit before hurricane season begins," Tom Evans, acting director of NOAA's Central Pacific Hurricane Center, said in a statement. "Now is the time to make sure that you and your family are ready and prepared for the 2014 hurricane season."
Was this article valuable?
Here are more articles you may enjoy.