Federal regulators widened the recall of salmonella-tainted chicken produced by California-based Foster Farms to include products believed to have been send to military bases in five states to feed personnel and their families, according to U.S. Department of Agriculture on Tuesday.
The outlets include U.S. Air Force, Navy and Marine bases in Alaska, California, Hawaii, Nevada and Washington state, according to the agency. The tainted chicken may have been sold to the bases themselves, as well as on-base commissaries, the agency said.
Military personnel and their families typically shop at commissaries for food and other goods.
Foster Farms could not be immediately reached for comment on Tuesday. Officials with the Department of Defense could not be reached for comment.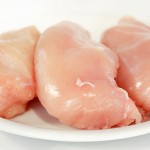 On Thursday, the company said it would for the first time recall an undisclosed amount of contaminated chicken linked to a massive salmonella outbreak that has stretched on for more than 16 months. The chicken products being recalled were produced by Foster Farms at its three plants in central California, all linked by public health investigators to the outbreak, which started in March of 2013.
The outbreak has roiled the public and brought regulatory pressure on the poultry producer. The salmonella strains linked to the outbreak have been identified in at least 621 cases in 29 states and Puerto Rico, according to the Centers for Disease Control and Prevention.
On Thursday, Foster Farms said it initiated the voluntary recall "in the fullest interest of food safety."
(Reporting By P.J. Huffstutter; Editing by Steve Orlofsky)
Topics California Agribusiness
Was this article valuable?
Here are more articles you may enjoy.