A wildfire that has blazed in a large swath in Northern California for the past five days is now 74 percent contained, according to fire and forestry officials.
The Monticello Fire in Yolo County had at one point forced several evacuations and was being fought by more than 1,533 personnel. More than 120 fire engines were involved, including 46 fire crews and five helicopters. All evacuations have been lifted.
The fire has been fueled by gusty winds and thick, brittle brush, and high temperatures. The fire had come dangerously close to 40 homes.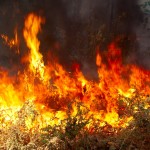 "Crews have gained better access to all areas of the fire and continue to work in steep, rugged terrain," a report on the fire states. "With better access firefighters will continue to improve containment lines and eliminate hotspots within the fire perimeter. As containment of the fire increases, some resources will transition to repair efforts while others will be demobilized and return home."
All public roads in the fire area have been reopened.
The cause of the fire is still under investigation.
Topics California
Was this article valuable?
Here are more articles you may enjoy.