The parents of a 26-year-old snowboarder who died after an Alaska avalanche have filed a federal lawsuit against a heli-skiing company, alleging it failed to assess the danger in the area.
Nickolay Dobov of Truckee, California, died after the March 2012 Haines-area avalanche hit a group of skiers.
The Takhin Ridge avalanche also killed Rob Liberman of Telluride, Colorado, who was guiding the group for tour provider Alaska Heliskiing, based in Haines.
The Alaska Dispatch News reported Natalia and Alex Dodov allege the company also failed to provide more than one guide and adequate radios, among other complaints.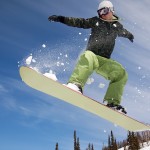 A voicemail message left at a telephone number listed for the company was not immediately returned Friday.
The wrongful-death lawsuit was filed July 16. It seeks an unspecified amount of money.
Copyright 2021 Associated Press. All rights reserved. This material may not be published, broadcast, rewritten or redistributed.
Was this article valuable?
Here are more articles you may enjoy.