The family of a girl who was critically wounded two years ago when a gun went off inside a classmate's backpack at her Washington state elementary school agreed Friday to a $1.2 million legal settlement.
The Bremerton School District is paying $900,000, while the gun owner's homeowner's insurance pays the rest, the Kitsap Sun reported.
Amina Kocer-Bowman was 9 years old in February 2012 when a classmate brought a gun to school in his backpack. The gun went off, shattering her elbow and damaging her organs before lodging in her spine. She underwent multiple surgeries during more than a month in the hospital.
The family's attorney, Jeff Campiche, says the money will be put in a trust for Amina's education. The settlement includes legal fees and costs.
Amina and her family now live near Billings, Montana, where Amina will enter sixth grade this fall. She made no statement during a hearing in Kitsap County Superior Court on Friday. Outside the courtroom, her father, John Bowman, said the family hoped the suit would set a precedent to make schools safer.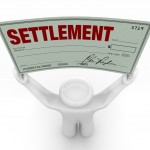 "It's kind of an opportunity to move on, I guess, and let us start our next chapter, and let Amina get a fresh start," he said.
The school district said in a statement that it was glad to reach the settlement, and the shooting showed the importance of safety drills in responding to "unpredictable events," KOMO-TV reported. But the district doesn't believe it's liable, attorney Andrew Biggs said.
"The school district has always viewed this case as one in which there is no liability, and it still appears to be that way," Biggs said in court.
The classmate took the gun from the home of his mother's then-boyfriend, Doug Bauer. The boy's mother, Jamie Lee Chaffin, was named as a defendant in the lawsuit, along with Jason Cochran, the boy's father, and Patrick Cochran, his uncle and guardian. The other defendants have no means to contribute to the settlement, so the burden falls on the school district and Bauer's insurance.
The suit alleged negligence on all the defendants' parts and asserted that the school district should have done more to recognize and head off the tragedy. The boy said he brought the gun to school because he was afraid of other students.
The boy made a plea agreement with Kitsap County prosecutors, taking responsibility for bringing the .45-caliber handgun to school and writing a letter of apology to Amina. He agreed to a year of court-supervised probation, during which time he also was barred from attending school in Bremerton and other local districts. As part of the plea deal, he agreed to testify in criminal cases against his mother and Bauer.
Bauer faced a charge of third-degree felony assault, but the state Supreme Court ruled last month that the case against Bauer could not move forward. The justices held that while Bauer may have been negligent in leaving loaded guns out in the house, his negligence did not make him culpable under state law for the assault charge.
The Kitsap County Prosecutor's Office is reviewing Bauer's file to see if other charges might be filed, according to prosecutor Russ Hauge.
Chaffin, who has a felony record, pleaded guilty to two counts of unlawful possession of a firearm. She is tentatively scheduled to plead guilty this month.
Copyright 2023 Associated Press. All rights reserved. This material may not be published, broadcast, rewritten or redistributed.
Topics Washington Education Gun Liability
Was this article valuable?
Here are more articles you may enjoy.