The U.S. Department of Agriculture has granted disaster area status to eight counties in central and eastern Idaho, clearing the way for farms to receive low-interest loans for operating costs.
USDA Secretary Tom Vilsack made the declaration for Bonneville, Jefferson, Bingham, Clark, Minidoka, Blaine, Cassia and Power counties on Thursday. Fourteen other neighboring counties have already received disaster status.
Bonneville County Farm Bureau President Stephanie Mickelsen told the Post Register that for some, the loans will be necessary to keep a farm in business until next year. Farms across much of southern and eastern Idaho suffered when ill-timed storms hit the region, causing grain to sprout before it could be cut and causing some harvested crops to mold before they could be stored.
Too much rain in recent months has caused an estimated $100 million in damages to barley crops in Idaho.
The wet weather ruined an estimated 15 million to 20 million bushels of barley, out of 48 million bushels of barley, said Kelly Olson, administrator for the Idaho Barley Commission.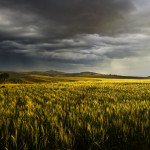 "This harvest is going to have significant economic impacts through the entire barley chain," said Olson. "It's not an exaggeration to say this is a significant hit on the farming community of Idaho."
The grain shortage will likely affect the brewing industry as well, the Post-Register reported.
Idaho produces more barley than any other state, with the bulk going to brewing beer. Some of the barley is sold to local craft brewers, but much of it goes to brewing giants such as Anheuser-Busch InBev, which processes 336,000 tons of malted grain each year at its Idaho Falls plant.
In August and September, nearly 5 inches of rain was recorded at the Idaho Falls Regional Airport. That rain caused sprout damage on barley fields throughout eastern and southern Idaho and wiped out entire crops.
Paul Patterson, an agricultural economist in Idaho Falls with the University of Idaho Extension office, said the damages to eastern Idaho's barley crop are estimated from $60 million to $64 million.
For some small breweries, such as Grand Teton Brewing, monsoonal rain isn't a huge worry. Rob Mullin, brewmaster and COO at Grand Teton, said he has a contract with a malting house that guarantees he will get 300 metric tons of grain.
Rain is a problem because it causes barley to sprout before it goes through a germination process in the malting plant.
Looking ahead, Mullin said he isn't too worried about the price of grain. During the next couple of months, he said, growers and maltsters will negotiate grain prices for 2016, and then in early 2015, Mullin will negotiate a price with the maltster.
With competition, Mullin said there is only so much room for a maltster to raise prices.
Dave DeMott, a local barley farmer with 1,100 acres contracted with Anheuser-Busch, lost his entire crop.
"It ruined it to where it's never going to meet the specifications that Busch is going to require," DeMott told the Post Register. "We were able to harvest some, but it's never going to make malt."
Mullin said his maltster, Great Western Malting, warned him there could be higher levels of beta glucans, polysaccharides found in the bran of cereal grains that could cause some brewing issues.
"We may see some small changes, some increases in beta glucans, but it should be well below the threshold where it starts causing problems," he said. "We're going to keep an eye out."
The barley commission's Olson says beer drinkers do not need to worry about changes in quality, whether they drink micro or macro brews.
"(Brewers) have very exacting quality control in every facility, big or small," she said.
Copyright 2020 Associated Press. All rights reserved. This material may not be published, broadcast, rewritten or redistributed.
Was this article valuable?
Here are more articles you may enjoy.