The National Weather Service issued an emergency tornado warning for Pierce County, Wash. over the weekend though a tornado did not develop.
The News Tribune reported the warning was issued shortly after noon on Saturday after a funnel-shaped cloud touched down near Anderson Island. However, the funnel dissipated before it hit land.
According to the Pierce County Department of Emergency Management, no damage was reported. The warning expired at 12:30 p.m.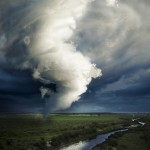 The funnel cloud did bring a heavy outburst of rain to portions of the county.
Tornado warnings are rare in this region: officials said Western Washington hadn't seen a tornado warning for more than 17 years.
The Weather Service issued the warning after two trained weather spotters reported seeing the funnel cloud in Puget Sound.
Copyright 2020 Associated Press. All rights reserved. This material may not be published, broadcast, rewritten or redistributed.
Was this article valuable?
Here are more articles you may enjoy.