Hawaii residents started to relax Sunday after days of keeping a cautious eye on Hurricane Ana, which was downgraded by late afternoon into a tropical storm.
After being dangerously close for several days the closest Ana got to Hawaii was about 70 miles southwest of the island Niihau on Sunday, leaving the state soaked but largely unscathed.
"It was a fortuitous track," said Chris Brenchley, a meteorologist for the National Weather Service in Honolulu.
Preparations for the storm began last week, with residents stocking up on bottled water, shelters opening and various events being canceled. On Sunday afternoon, all but one shelter on Kauai had closed, according to the Hawaii chapter of the American Red Cross.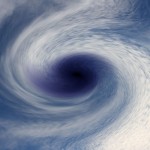 A tropical storm watch was canceled Sunday for Oahu, the state's most populous island, but a flash flood warning was extended to 5 p.m. A tropical storm warning remained in effect for Kauai and Niihau, and a hurricane watch has been issued for parts of a few remote northwestern Hawaiian islands, home to a largely uninhabited marine sanctuary.
Gradually turning northwest, Ana is expected to gain strength and become a hurricane again, the weather service said.
There have been no reports of injuries, deaths or significant damage from the storm, which was upgraded to a hurricane as it neared Hawaii late last week. The effects have been limited to heavy rain, large waves and some minor flooding.
Officials, however, asked people to stay home, avoid rain-soaked roads and keep out of the ocean.
Kauai officials remained on alert with the storm warning and flash flood watch in effect. A few hundred people on the island experienced power outages, but many had their service restored by Sunday morning.
Hawaiian Airlines canceled some morning Kauai flights, leaving about two dozen travelers to wait for an afternoon trip.
There were no reports of problems on Niihau, a privately owned island that's home to fewer than 100 people.
Ana was the second large storm to bear down on Hawaii recently. Tropical Storm Iselle hit the Big Island in August, leaving the Puna region with downed trees and power outages.
Copyright 2021 Associated Press. All rights reserved. This material may not be published, broadcast, rewritten or redistributed.
Was this article valuable?
Here are more articles you may enjoy.