A federal judge has upheld a jury's $28.2 million damage award to a woman who suffered a permanent brain injury from carbon monoxide poisoning due to a faulty furnace in the apartment she was renting in Casper, Wyo.
Amber Lompe sued apartment owner Sunridge Partners LLC and Apartment Management Consultants of Salt Lake City alleging they knew about a previous carbon monoxide leak and failed to repair or replace the furnaces before she was poisoned in February 2011.
A federal jury awarded Lompe $2.7 million in compensatory damages and $25.5 million in punitive damages in December 2013.
The apartment owners and managers appealed, saying the jury reached a runaway verdict based on evidence and witnesses they shouldn't have been allowed to consider.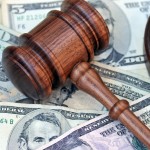 U.S. District Judge Alan B. Johnson rejected those claims Tuesday, arguing the damages awarded were significant, but not shocking or unconstitutional, the Casper Star-Tribune reported.
"The harm here was not mere economic harm or injury," Johnson wrote. "The injury was physical. If the plaintiff had been in her apartment even minutes longer, she likely would have lost consciousness and the carbon monoxide poisoning could have disabled her for the rest of her life or could've been fatal."
Lompe's attorney, Tyson Logan, said Lompe suffered brain injuries that affect her memory, concentration, processing speed, attention and ability to multi-task.
The defendants, in their appeal, argued that jurors did not hear that Lompe failed to maintain the detectors in her apartment and had she done so, could have prevented her own injuries.
Lompe's response notes that semi-annual inspection reports disclosed missing carbon monoxide alarms in many apartments and that weeks after Lompe was poisoned, the majority of the apartments did not have functioning alarms.
"It is unquestioned that the jury viewed the defendants' conduct as egregious, warranting a greater award of punitive damages," Johnson wrote in denying the defendants' request for reduced damages or a new trial.
Martha Knudson, general counsel for Apartment Management Consultants, said the company was disappointed and planned to appeal. Attorneys for Sunridge Partners did not immediately respond to an email from The Associated Press seeking comment.
Copyright 2020 Associated Press. All rights reserved. This material may not be published, broadcast, rewritten or redistributed.
Was this article valuable?
Here are more articles you may enjoy.