A spokeswoman for rideshare service Lyft says one of its drivers was involved in a multi-car crash in Northern California that left a man dead.
California Highway Patrol officials said the driver was giving a ride to two passengers early Saturday when his Toyota Camry swerved on Interstate 80 near Roseville to avoid a car stuck on the freeway. The Camry lost control and slammed into two trees.
KTXL-TV reports 24-year-old Shane Holland, who was riding home from a Halloween party with his boyfriend, died in the accident.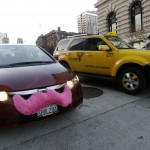 Lyft spokeswoman Erin Simpson offered condolences to the victim's family on Sunday and said the rideshare service is cooperating with investigators.
The Lyft driver and the other passenger were hurt. The extent of their injuries is not known.
Copyright 2021 Associated Press. All rights reserved. This material may not be published, broadcast, rewritten or redistributed.
Topics California Sharing Economy Ridesharing
Was this article valuable?
Here are more articles you may enjoy.