Selena Edwards, 38, of Victorville, Calif., was arrested and faces 21 felony counts of insurance and workers' compensation fraud associated with an alleged fraudulent claim against McDonald's for second-degree burns to her hand from spilled coffee
The charges also include submitting a fraudulent insurance claim, false statements and false evidence, according to the California Department of Insurance.
Edwards allegedly claimed that when she was handed a cup of coffee at a McDonald's drive-thru, the lid was not secured and the coffee spilled on her right hand.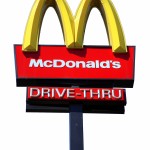 Edwards reportedly submitted an injury claim with photos of a hand with second-degree burns, but detectives discovered that some of the photos had been copied from a hospital website. In an attempt to exaggerate her injury, Edwards also reportedly submitted counterfeit documentation for treatment that she claimed to have received from a local hospital.
Edwards was released on her own recognizance and is scheduled Monday, November 10, 2014 to return to court for a preliminary hearing.
Topics California Fraud Abuse Molestation
Was this article valuable?
Here are more articles you may enjoy.