A Pineapple Express "super storm" now lashing California may be driven by climate change, a report states.
Yet however strong the storm and no matter what's causing it, California's ongoing storm would need to be replicated at least five more times for meteorologists to declare an end to the state's historic drought, according to a Bloomberg news story.
The storm is one of the most powerful to hit the state in years. A National Weather Service flood advisory was in effect for California's San Joaquin Valley through noon today.
"Doppler radar indicated heavy rain causing urban and small stream flooding in the advisory area. up to two inches of rain have already fallen," an NWS flood alert states. "Some road flooding has already been reported…including parts of highway 99."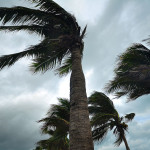 Rain is forecast throughout the day all over the state. In San Francisco today's forecast calls for showers, thunderstorms and high surf advisories. Rain, thunderstorms and wind gusts are forecast for Los Angeles, while in San Diego wind gusts of 20 mph are expected along with rain and thunderstorms.
The state's mountain areas are also expected to get plenty of snow. Blizzard warnings were issued for parts of the Sierra Nevadas. Two to 6 inches of snow were expected at lower levels and up to 9 inches at higher levels, on top of several feet of snow that has been falling over the past week.
However, below-normal rain and snowfall have left reservoirs at less than a third of capacity, so at least five similar storms would have to follow to replenish the deficits, Alan Haynes, service coordination hydrologist at the California Nevada River Forecast Center in Sacramento, told Bloomberg.
"We need a much wetter-than-normal season to recover," Haynes said. "If we don't get the precipitation up in the mountains, we don't address the long-term supply issues that we're facing."
The moisture is coming from long streams of clouds and atmospheric vapor, many of which originate from Hawaii or beyond and are known as the "Pineapple Express," brought from the Tropics.
"It's essentially a fire hose of water brought up from the tropics that comes up and crashes into the West Coast," said Michael Dettinger, an atmospheric scientist with the Scripps Institution of Oceanography in La Jolla.
According to Climate Nexus, a communications group that works to highlight the impacts of climate change and clean energy solutions in the U.S., atmospheric river storms are responsible for 30 percent to 50 percent of all the precipitation in California and are also responsible for over 80 percent of major flooding events.
A report by Climate Nexus issued late Thursday states that climate research indicates that the impacts of these storms are expected to escalate dramatically if carbon emissions continue to be produced, and that atmospheric rivers may already be impacted by current warming:
As the world heats up and more heat is carried in the atmosphere as water vapor, heavy precipitation events are becoming more intense.
Climate models project that atmospheric river storms in California will become more frequent and intense in the future, which means it is likely that the current storm is a taste of what's to come.
Surface temperatures off the coast of California during this particular storm are much warmer than usual, helping to pump even more moisture into the storm.
According to Climate Nexus, computer models predict that climate change will cause the very worst atmospheric river storms hitting California to become much more frequent and larger.
"One model illustrating the impacts of a large-scale atmospheric storm, similar in scope to the infamous river storm of 1861 that turned the Central Valley into an inland lake, found that such an event would inflict over $400 billion in damages in modern day California," the group states.
Was this article valuable?
Here are more articles you may enjoy.