Morgan West Jr. has been named CEO and chairman of the board of directors of Dealey, Renton & Associates.
West has been DRA's president since Jan. 1, 2013 and will continue in this role as well.
Al Chinn, DRA's president, CEO and chairman since 1992, will continue to serve clients and support the firm as senior advisor and a director.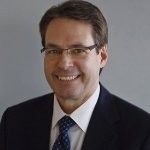 West previously worked for Kibble & Prentice, a USI company, in Seattle, Wash., as president of property/casualty. West began his insurance career as a life agent in 1985, transitioning to personal lines and eventually into commercial property and casualty. In the mid-90′s he managed the lawyers professional liability insurance program at Hurley, Atkins & Stewart in Seattle.
DRA specializes in professional liability for architects, engineers, environmental consultants and other design professionals. DRA is employee-owned and has offices in Oakland, Pasadena and Santa Ana.
Was this article valuable?
Here are more articles you may enjoy.