USAA announced it will offer auto insurance coverage in Colorado that will protect ridesharing drivers from the moment their ridesharing mobile apps are turned on until they are matched with a passenger.
The pilot program, which will begin in February, extends a member's existing auto policy coverages and deductibles, and costs about $6-$8 more per month, or roughly $40-$50 more for a six-month insurance policy, according to the carrier.
"Ridesharing is a growing industry, and it's important that our members have the right insurance coverage," Alan Krapf president of USAA Property and Casualty Insurance Group said in a statement. "This is also a critical time for USAA to test how best to provide this innovative coverage since many veterans are being recruited to drive for transportation network companies."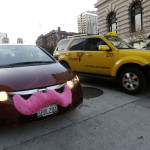 In June 2014, Colorado became the first state to legislatively authorize ridesharing services and mandated that starting on Jan. 15 transportation network company drivers must have primary coverage in place from the time the driver activates the TNC mobile app until the driver logs off.
USAA's product provides its members with a way to make sure they are complying with the new law when drivers have the mobile app on, but are not yet matched with a passenger. Colorado was selected for USAA's pilot due to this legislation and a high concentration of USAA members in the state, according to the company.
The USAA family of companies provides insurance, banking, investments retirement products and advice to current and former members of the U.S. military and their families.
Topics Colorado
Was this article valuable?
Here are more articles you may enjoy.