Opportunity was a theme that came up often at the annual California Wholesaler Industry Days convention from Sunday through today in La Jolla, Calif. at Hilton Torrey Pines.
The three-day conference organized by the California Wholesalers Insurance Association (CIWA) included a golf tournament, a talk about duty of care, a mock insurance trial, networking and a panel on legislation and regulation.
During the regulatory and legislative issues panel hosted by Hank Haldeman, executive vice president at the Sullivan Group and president of the National Association of Professional Surplus Lines Offices (NAPSLO), panelists addressed opportunities like those presented by the app-based ridesharing trend that is speeding across the nation.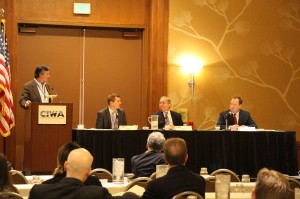 Ben McKay, executive director of the Surplus Lines Association of California, noted that ridesharing giant Uber went under the insurance and regulatory radar for several years before an incident with an Uber driver took the life of a young girl on New Year's Eve 2013 and propelled the issue into national headlines.
"Uber went about four years without what we would consider the proper insurance," he said, adding that Uber, Lyft and other ridesharing operators seemed to ignore the livery service exclusion in most auto policies and instead relied on their drivers' personal auto insurance policies for coverage.
New regulations are now in place in California requiring commercial coverage for ridesharing, or transportation network companies as they are called. However, a company like Uber also offers taxi services, and other services, including rental helicopter services, and the innovation is unlikely to stop there, McKay said.
"You know that they're going bare on about 90 percent of these ideas," McKay said, adding that what that means is all this innovation is bringing with it opportunity for insurance professionals.
He and other panelists encouraged wholesalers present to act quickly to deliver products to meet this demand before a lack of available insurance prompts the government, or those outside the industry, such as Google, to step in.
See related story: Google Poised to Enter U.S. Auto Insurance Market: Report
"The threat is if we can't find coverage, then what?" McKay said. "Does the government step in? Does Google come in to offer personal auto insurance? Does this mean we get squeezed out by Google insurance?"
Conference-attendees also heard talk of avoidance of government intrusion.
Bernie Heinze, executive director of the American Association of Managing General Agents (AAMGA), said that it's difficult for elected representatives to go to voters by promoting their support of insurance issues.
"These candidates are not going to go to their voters and say 'Look at what I did for the insurance industry,'" Heinze said.
Heinze and other panelists said that putting members before government officials from the city council level on up to Congress can help these decision-makers see beyond a faceless industry.
"We need to humanize the industry," McKay said.
Brady Kelley, executive director of NAPSLO, stressed the importance of support from association members, including monetary support from political action committees, which he said can help get members in front of legislators in face-to-face conversations.
"If we didn't have the PAC dollars, we wouldn't get these meetings," Kelley said.
Panelists also discussed President Obama's signing on Monday of the reauthorization of the Terrorism Risk Insurance Act, progress on the National Association of Registered Agents and Brokers Reform Act to streamline licensing for producers doing business in multiple states, the National Flood Insurance Program and legislative changes that may be coming to California.
McKay noted that the announcement by California Attorney General Kamala Harris that she will run for the seat of retiring Sen. Barbara Boxer may open up an opportunity for others, such as Insurance Commissioner Dave Jones. Should Jones run for attorney general, that in turn would open up a hole for a new insurance commissioner in California, he said.
"We are in a dynamic regulatory time," McKay said.
Others speaking at the conference also called upon industry professionals to be proactive and involved.
John Norwood, an industry lobbyist with Norwood and Associates, offered a legislative outlook. He said that so far there are no major threats looming for the industry in state Legislature – but it is early on and lawmakers are known to at any moment seize upon an opportunity to get votes.
"Every business, every industry is one headline away … from a really bad bill," Norwood said.
The lobbyist noted with a hint of optimism that a number of moderate Democrats are taking office in this year's legislative shuffle, and that Republicans added a few seats this year, too. He believes that will add more balance to the legislative process.
Among the big themes coming from this year's state government, Norwood expects renewable energy, paying down debt and increased spending on social programs.
Among the insurance topics, Norwood expects action similar to the ridesharing debate to be taken up between insurers and vacation rental operators, like Airbnb. Earthquake insurance, workers' compensation and opioid abuse are other insurance-related topics he believes legislators may take up during the year.
Was this article valuable?
Here are more articles you may enjoy.