A Coos County, Ore. man badly burned when he poured gasoline on a fire is suing Walmart, claiming the gas can he bought there was defective.
The Register-Guard reported Daniel Rowlett is seeking $13 million. He says Walmart sold him a plastic can produced by Blitz USA that exploded as he poured fuel into a burn barrel in October 2013. He suffered burns over nearly half his body.
The company that made the gas can went out of business after more than 80 people sued. Many accused Blitz of not fitting the spout of its gas can with an inexpensive safety screen that would have blocked flaming fuel vapors from shooting back into the container and causing an explosion.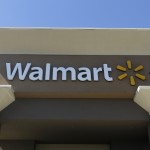 Walmart agreed in 2013 to chip in $25 million to resolve the litigation, with Blitz paying $136 million.
Walmart spokesman Randy Hargrove said the company requires all products to meet safety standards. He added that "It's unfortunate when people misuse gas cans because tragic injuries can result."
Copyright 2020 Associated Press. All rights reserved. This material may not be published, broadcast, rewritten or redistributed.
Was this article valuable?
Here are more articles you may enjoy.