Chevron says it agrees with several findings in a federal report about a 2012 fire at one of its refineries in California's San Francisco Bay Area.
But it adds the report by the U.S. Chemical Safety Board inaccurately depicts the safety culture at its refinery in Richmond.
The company says in a statement Friday its own investigation led to several actions, including the inspection of more than 140 piping circuits.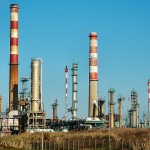 It says several of its surveys show that employees and contractors feel supported and give Chevron credit for developing a strong safety culture.
Chevron says it will continue to cooperate with the federal safety board and other oversight agencies.
The board released a report Thursday saying the fire was the result of gaps in regulatory guidelines and shortcomings in the company's safety culture.
Copyright 2020 Associated Press. All rights reserved. This material may not be published, broadcast, rewritten or redistributed.
Was this article valuable?
Here are more articles you may enjoy.