The U.S. Geological Survey reported a magnitude 3.1 earthquake struck the San Francisco Bay area.
The USGS says the small quake hit at 3:44 a.m. Friday and was centered about a mile east-southeast of Emerald Lake Hills, California, 30 miles south of San Francisco and about the equal distance north of San Jose.
The quake had a depth of about 2.5 miles.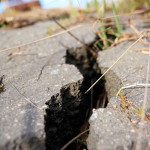 The San Francisco police department had no immediate report of damage or injuries.
According to the USGS website, the quake was felt as far away as Concord, about 40 miles northeast of the center of the quake.
Copyright 2021 Associated Press. All rights reserved. This material may not be published, broadcast, rewritten or redistributed.
Was this article valuable?
Here are more articles you may enjoy.