A federal appeals court has ruled a Colorado couple can sue Jack Nicklaus over an alleged misrepresentation of the golf legend's membership role in a $3.5 billion southern Utah luxury golf resort that went bankrupt in 2009 before it could open.
Jeffrey and Judee Donner sued Nicklaus and his company in 2011, saying marketing materials naming Nicklaus as a "charter member" of the retreat near Beaver prompted them to invest $1.5 million in the Mount Holly development in 2007.
Their lawsuit, which included other claims, was tossed out by U.S. District Judge Clark Waddoups of Salt Lake City in 2013.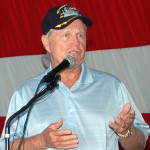 But a three-judge panel of the 10th U.S. Circuit Court of Appeals, in a Thursday ruling, said the Donners had "adequately alleged intentional misrepresentation" and can challenge Nicklaus' status as a Mount Holly charter member, The Salt Lake Tribune reported.
Brent Manning, a Salt Lake City attorney who represents Nicklaus, said although the court's decision is still being analyzed, they are pleased the justices upheld the majority of Waddoups' decision. "Although we are disappointed with the reversal on the one relatively technical issue, we are confident that this issue will ultimately be resolved in Mr. Nicklaus' favor," he said in a statement.
The appeals court upheld Waddoups' rulings regarding three other claims, including Nicklaus' alleged liability for "intentional misrepresentations or omissions involving progress of the development, availability of legal title and failure to disclose an executive's criminal history."
The Utah attorneys for the Colorado orthopedic surgeon and his wife did not immediately respond to requests for comment.
The Donners claim that when the project fell through, Nicklaus and his company took no responsibility for the debts and obligations. The lawsuit says Nicklaus knew the company had serious financial and legal problems but failed to disclose them. The Donners are seeking their initial investment and other damages.
Plans for the Mount Holly resort included a Nicklaus-designed golf course, 1,200 luxury homes and private ski facilities.
Nicklaus set the modern standard in golf with his 18 major championships.
Copyright 2021 Associated Press. All rights reserved. This material may not be published, broadcast, rewritten or redistributed.
Was this article valuable?
Here are more articles you may enjoy.