In the Western U.S. there are nearly 900,000 homes representing an estimated reconstruction cost of more than $237 billion considered at "very high" or "high" risk from wildfires, a report issued today shows.
CoreLogic's Wildfire Risk analysis is the latest of the firm's running wildfire risk assessment reports. A report in 2013 from the property and analytics firm using different metrics showed $189 billion worth of properties in the Western U.S. were at "high risk."
This year's report assigns risk scores for properties from 1 to 100, which indicates the level of susceptibility to wildfire, as well as the risk associated with the property being located in close proximity to another high-risk property or area.
The report gives 1.1 million Western U.S. homes the highest score segment (81-100), representing a combined potential reconstruction value of more than $268.5 billion.
"You're always a little shocked when you see the numbers," said Tom Jeffery, a CoreLogic senior hazard scientist, who was involved in putting the report together.
While those homes in the 81-100 segment may not be fire hazards themsleves, their proximity to the wildland area should be a concern, he said.
"Some of these homes are tremendously high risk," Jeffery added.
More surprising to Jeffery was that with much of the West in an ongoing drought, there were few major losses due to wildfire last year. Last year saw the second fewest number of major wildfires over the past two decades and it recorded the second lowest total for acreage burned in the last 10 years, the report shows.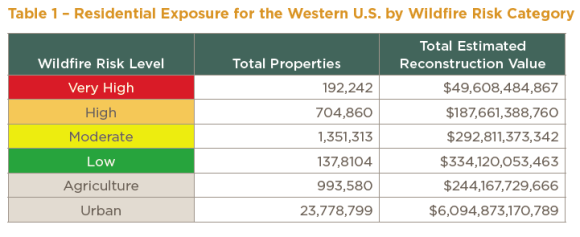 "I think we really kind of dodged a bullet last year," he said.
Jeffery offered a few reasons for last year's relatively tame wildfire season, putting luck at the top of his list.
He also credited state and regional governments, and fire officials, for large responses in terms of equipment and personnel to even small fires, which has helped contain some potentially disastrous blazes.
Timely precipitation – also luck – had a hand in a few other fires, and lastly Jeffery credited more homeowners in the wildland-urban interface for being proactive by doing things like taking care of excess brush, treating wooden structures and trimming nearby trees.
"I think the homeowners have really taken mitigation to heart," he said.
With the 2015 fire season just around the corner, Jeffery isn't so sure this year will be such a lucky one.
While some parts of the West broke free of drought conditions over the past year and received some precipitation, Jeffery considers that a double-edged sword because the rainfall will also lead to growth in vegetation – or, as he calls it, "fuel."
There are other parts of the West like California, which has remained under drought conditions for three years and counting, where many counties are a virtual tender trap. The state's Riverside-San Bernardino-Ontario, Sacramento-Roseville-Arden-Arcade and Truckee-Grass Valley regions were among the top 10 listed in the report as among the riskiest regions in the West. There were a combined 28,516 homes considered "very high" risk in those regions.
The West's riskiest region may be the Denver-Aurora-Lakewood, Colo. area, where 17,860 homes are at "very high" risk, representing more than $5.35 billion in reconstruction value.
In the report California nudged Colorado for having the largest number of homes at "very high" wildfire risk. There were 50,905 such homes in California, representing more than $16.1 billion in reconstruction value. In Colorado there were 49,667 homes considered "very high" risk, followed by Texas (35,016), Oregon (13,788), Idaho (11,078), Montana (9,601) and Arizona (8,089).
Texas led with the most homes at "high risk," with 261,855, followed by California (255,023), Oregon (51,872) and Colorado (50,009).
Was this article valuable?
Here are more articles you may enjoy.