Farmers Insurance Group received nearly $6 million in free media exposure for putting its name on a downtown Los Angeles stadium that will never be built.
Anschutz Entertainment Group this week announced that it was no longer pursuing a $1.2 billion National Football League stadium project — to be called Farmers Field — in the country's second largest media market. The Farmers name became attached to the project in 2011 after the insurance company agreed to a 30-year naming rights deal that the Los Angeles Times said was worth about $700 million.
The Farmers payments weren't set to begin until the 65,000- seat stadium was completed. The past four years of discussion about the stadium – including mentions on television programs, social media and news websites – has generated $5.84 million in exposure, according to sponsorship evaluation firm Front Row Analytics.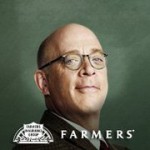 "It has to be one of the best non-naming rights, naming rights deals ever," Eric Smallwood, senior vice president at Philadelphia-based Front Row, said today in an interview.
AEG said this week that it is no longer in discussions with the NFL or any teams regarding the stadium project. The company owned by billionaire Philip Anschutz said it believed an agreement couldn't be reached to satisfy all parties.
Farmers Insurance Chief Marketing Officer Mike Linton said the company has no plans to pursue a sponsorship deal with another NFL team or stadium.
Rams, Raiders
"We are disappointed that plans for Farmers Field will not be going forward," Linton said in a statement. "We supported the project because it would have brought jobs and economic development to Los Angeles, and we're proud of our efforts to help return the NFL to the city."
The St. Louis Rams played in Los Angeles from 1946 to 1994; the Oakland Raiders were in the city from 1982 through 1994.
Smallwood said most naming-rights deals for new stadiums don't begin until the first years of operation, meaning the earlier sponsors can get attached the project, the more they can capitalize off buzz, construction and media mention.
"That's indicative here with Farmers, which got two-plus million in the first year after the announcement," he said.
AEG's proposal wasn't the only one for Los Angeles. New England Patriots President Jonathan Kraft said at the Bloomberg Boston Sports Forum in October that the city's stadium options "have never been more real."
Other Options
Last month the San Diego Chargers and Raiders proposed building a $1.7 billion shared stadium in Carson, a Los Angeles suburb. Rams owner Stan Kroenke has said he will join with the Stockbridge Capital Group to build an 80,000-seat stadium in the Los Angeles suburb of Inglewood.
Another possibility is for a venue next to Dodger Stadium on land owned by Guggenheim Partners, the current owners of the Major League Baseball team, and former owner Frank McCourt. Majestic Realty Co. President Ed Roski, a part owner of the city's Lakers and Kings franchises, has proposed a stadium in City of Industry, about 25 miles east of downtown Los Angeles.
Farmers, which has a management relationship with Switzerland's Zurich Insurance Group AG, also received the equivalent of about $650,000 worth of publicity when actor J.K. Simmons, their commercial spokesman, won an Academy Award for Best Supporting Actor this year for his work in "Whiplash," according to Front Row. Oscars host Neil Patrick Harris sang a version of the Farmers jingle after Simmons' award was announced.
Copyright 2021 Bloomberg.
Topics Agribusiness
Was this article valuable?
Here are more articles you may enjoy.