California Gov. Jerry Brown plans to detail new legislation to help manage a worsening drought gripping the most populous U.S. state for a fourth year.
Brown has scheduled a news conference with legislative leaders for Thursday morning in Sacramento, according to a statement from his office.
On Tuesday, state regulators passed new rules that prohibit residents from watering lawns within 48 hours after a rain storm and limit watering to just two days a week. Restaurants and bars can only serve water if asked by a customer. Hotel and motel operators must offer patrons the option of not having towels and linens washed daily. Residents and businesses face fines for failing to follow the rules.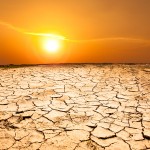 Record-low rain and snowfall has left California's reservoirs less than half full, leading to water rations that have laid fallow much of the nation's most-productive agricultural region. Wildfires are on the rise, and fish populations are at risk. Some communities have restricted water use to a fraction of normal levels, while the cost of buying water and drilling new wells has skyrocketed.
The California State Water Resources Control Board last July passed an emergency measure that set fines of as much as $500 a day on residential and business property owners if they overwater lawns to the point that runoff flows onto streets or sidewalks
Copyright 2021 Bloomberg.
Was this article valuable?
Here are more articles you may enjoy.