A class action lawsuit filed in a California federal court alleges The Venetian and The Palazzo casino-resorts hid daily resort fees from travelers booking rooms at the Las Vegas Strip properties.
The lawsuit filed earlier this month said Benjamin Brin of Studio City in Southern California booked a three-night stay at The Venetian last June but the nightly $209 room rate didn't include the daily resort fee. There was no mention of it until Brin received an emailed reservation confirmation that noted the fee would be added to each night's stay, the lawsuit said.
A spokesman for Las Vegas Sands which owns the casinos declined to comment on the lawsuit.
Brin's attorney Brian Kabateck described the fee and efforts by hotels to not do more to publicize it, "fundamentally unfair."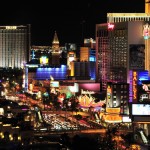 "Why don't they post it all over the place," he said Tuesday by phone.
The vast majority of Las Vegas casino-hotels charge resort fees the properties say cover the use of Internet, a gym, pool or other amenities whether the customer uses them or not.
The Venetian and The Palazzo charge a $29 daily fee.
The Federal Trade Commission warned hotel operators in a 2012 letter that they should avoid misrepresenting the prices quoted to customers by clearly including the unavoidable daily resort fees.
Since a December redesign to the websites for The Venetian and The Palazzo, the fee is noted before a person books a room but the amount isn't included in the grand total.
Las Vegas Sands prevailed in a prior 2012 class action case against it, also involving resort fees, which is now on appeal with California's Ninth Circuit Court.
The latest case noted that since the last suit was dismissed in 2013 until the company redesigned its booking site last December after receiving a warning letter from Kabateck's law firm, Las Vegas Sands made no mention of the daily resort fee until after a room was booked.
Copyright 2023 Associated Press. All rights reserved. This material may not be published, broadcast, rewritten or redistributed.
Topics Lawsuits California
Was this article valuable?
Here are more articles you may enjoy.