A Nevada Assembly member is attempting to create a regulatory framework for drones that would protect people's privacy in the state.
Democratic Assemblyman Elliot Anderson is sponsoring a bill that would limit how police can use drones in investigations and require the state's public safety department to keep a public listing of all drones used by state agencies. The bill also criminalizes using a drone to take a clandestine photo of a person in a private setting and sets certain trespassing rules for drones flying under 250 feet.
Anderson said the intent of the bill was to balance privacy concerns without jeopardizing industry growth. Nevada was listed as a Federal Aviation Administration approved drone test site in 2013.
A number of police lobbyists testified in favor of the bill, AB 239, Tuesday morning in the Assembly Judiciary Committee saying they thought it would prevent abuses without tying the hands of law enforcement.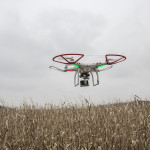 Anderson said the bill's provisions wouldn't prevent police from using drones, as long as they follow due process.
"I am not seeking to let criminals off on technicalities," he said. "I'm seeking to protect the needs of law enforcement with the privacy rights of citizens."
Republican Committee Chair Ira Hansen, who is co-sponsoring the bill, said he was concerned with the civil liberties aspect of drone technology and wanted to make sure police couldn't engage in abusive practices like unwarranted 24-hour surveillance.
"This is George Orwell all the way when you think about the potential of this," he said during the hearing.
A number of drone industry supporters, including Incline Village-based police technology consultant John Abbey, said the bill overreaches and would stunt growth in the industry.
Abbey said setting restrictions on drones before a serious problem presents itself would set a dangerous precedent.
"I think it's ridiculous," he said in an interview with The Associated Press. "I mean law enforcement hasn't even sat down to figure out how they're going to use this technology."
Drone America spokesman John Dunn said he was worried the bill didn't go far enough in regulating hobbyist drones, which are often less expensive and easier to use than commercial models.
"Nevada does not need airborne paparazzi intruding into people's lives," he said.
Anderson said he's been working on the bill for more than a year and wanted to work with all stakeholders in the emerging industry.
"I'm trying to get in carefully, I'm trying not to go too far on the first bite of the apple and let the technology develop and for us to get some more experience," he said.
Copyright 2020 Associated Press. All rights reserved. This material may not be published, broadcast, rewritten or redistributed.
Was this article valuable?
Here are more articles you may enjoy.