Nearly 40 percent of California hospitals earned low ratings for patient safety in a recent national assessment.
The Los Angeles Times reported that nonprofit The Leapfrog Group issued a national report card Wednesday that gave nearly four in 10 California hospitals a C or lower for patient safety.
Leapfrog's President Leah Binder says there is room for improvement in the state's hospitals.
The report gave 43 percent of California hospitals an A rating this year, and 29 of the state's hospitals have received straight A's on patient safety since Leapfrog began rating them in 2012.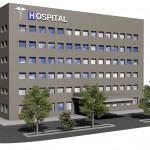 Those include 17 hospitals run by Kaiser Permanente, including its centers in West Los Angeles and Riverside.
Medical experts say hospital errors cost the nation about 400,000 lives annually.
Copyright 2021 Associated Press. All rights reserved. This material may not be published, broadcast, rewritten or redistributed.
Was this article valuable?
Here are more articles you may enjoy.