Insurance carriers for the Roswell Independent School District in New Mexico have paid nearly $2 million in structured settlements to two victims of a shooting at a middle school last year.
The Roswell Daily Record obtained the legal pleadings Friday in the litigation that resulted in a court-approved mediated settlement.
Attorneys for Berrendo Middle School shooting victims Kendal Sanders and Nathaniel Tavarez petitioned for medical expenses and other compensatory damages last December in Second Judicial District Court in Albuquerque.
Tavarez was awarded $1 million and Sanders $937,500, court records show.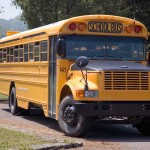 Tavarez was 12 at the time of the Jan. 14, 2014 shooting, and Sanders was 13. Prosecutors said a then-12-year-old boy who was new to the school and claimed he had been bullied opened fire on two other students in the school's gym. The Associated Press typically doesn't identify juveniles charged with crimes.
The shooter pleaded no contest in May 2014 to three counts of aggravated battery with a deadly weapon and carrying a firearm into a school.
Under New Mexico law, the state can charge minors as adults only if they are at least 14.
A District Court judge remanded the boy to the custody of the New Mexico Children, Youth and Families Department until age 21. But he could be released earlier if the department determines he has been rehabilitated.
A Second Judicial District judge approved structured settlement annuities for both teens that pay their medical and legal bills and allocate their remaining monetary awards over time.
The bulk of the awards will be paid to both teenagers in lump-sum payments after 2022, after their medical bills have been paid.
Sanders had incurred medical bills of $244,326 resulting from the shooting as of last month, according to court records, while Tavarez had bills totaling $585,710.
Both teens had to undergo multiple surgeries, and both still have lead pellets in their bodies from the sawed-off shotgun attack, the Daily Record reported.
Tavarez suffered the most extensive injuries, with hundreds of pellets remaining in his body, court records show. He also was blinded in his left eye.
Copyright 2022 Associated Press. All rights reserved. This material may not be published, broadcast, rewritten or redistributed.
Topics Mexico New Mexico
Was this article valuable?
Here are more articles you may enjoy.