Authorities say a man has been arrested for allegedly driving his sports car more than 131 mph on a Phoenix, Ariz. freeway.
Arizona Department of Public Safety officials say 22-year-old Alejandro Barraza was taken into custody during a weekend law enforcement crackdown targeting speeders on State Route 51.
They say Barraza told the DPS officer arresting him that he was glad authorities didn't catch him going 160 mph earlier.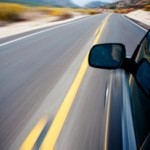 A spotter crew aboard a DPS aircraft patrolling the freeway as part of the two-day operation alerted a DPS motorcycle officer, who caught up with the speeding car south of Northern Avenue.
Barraza was arrested and later booked into jail for endangerment, reckless driving, criminal speed and failure to provide identification.
It was unclear if he has a lawyer yet.
Copyright 2023 Associated Press. All rights reserved. This material may not be published, broadcast, rewritten or redistributed.
Topics Personal Auto Arizona
Was this article valuable?
Here are more articles you may enjoy.