Two sizeable earthquakes struck off the coast of Oregon on Monday but officials say no tsunamis were triggered.
A magnitude 5.8 earthquake struck at 12:52 a.m. and a second quake measuring magnitude 5.5 hit at 4:46 a.m. Monday morning.
Paul Caruso, with the U.S. Geological Survey, says both quakes hit a fault that's west of the Oregon and Washington coast. They were about 330 miles west of Salem.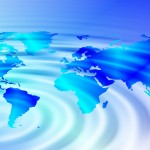 Caruso says both were about 6 miles deep, which is relatively shallow.
He says the deeper the quake, the less likely people will feel it. For example, the magnitude 7.8 quake that recently struck Japan did little damage because it was 420 miles deep.
Caruso says the Oregon coast quakes were not big enough to trigger tsunamis. He says it usually takes a magnitude 7 for that to happen.
Copyright 2023 Associated Press. All rights reserved. This material may not be published, broadcast, rewritten or redistributed.
Topics Oregon
Was this article valuable?
Here are more articles you may enjoy.