A balcony that snapped off an apartment building and led to the deaths of six college students was supported by wooden beams that had been badly rotted by exposure to moisture, building inspectors in Berkeley, Calif., said.
The city Building and Safety Division issued a summary of initial findings from the investigation of the fatal balcony failure a week ago. A probe was launched last week.
Five of the students who died were from Ireland and working in the San Francisco Bay Area for the summer.
The inspectors noted that joists that extended from the building to support the concrete and engineered wood balcony were extensively rotted at the place where the structure broke off, flinging 13 young adults attending a 21st birthday party five stories down to the street.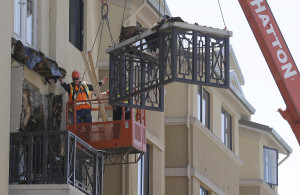 The inspectors did not specifically say the rotten beams caused the collapse. But they called for mandatory inspections and emergency changes in the local building code to prevent balconies, decks and stairs from being exposed to moisture.
Staff members "believe that immediate adoption of the recommendations within this memo will be a step towards improving the safety of Berkeley residents in both existing buildings and those which will be built in the future," Berkeley's planning and development director Eric Angstadt wrote.
Berkeley Mayor Tom Bates said last week that rotted wooden beams might have caused the collapse. He later said the theory was speculation and a cause had not been officially determined.
Along with identifying dry rot in the support beams, inspectors also noted signs of decay involving the 4th floor balcony just below it.
The other two balconies in the 176-unit Library Gardens complex showed no signs of damage, they said. The joists on those structures did not extend from the building.
Trevor Martin, a spokesman for building contractor Segue Construction, issued a statement saying the company is reviewing the findings.
Olivia Burke, Eoghan Culligan, Niccolai Schuster, Lorcan Miller and Eimear Walsh, all 21-year-olds from Ireland, and Ashley Donohoe, 22, of Rohnert Park, California, were killed June 16 when the balcony fell during a birthday party.
The seven other people on the balcony remained hospitalized.
Copyright 2020 Associated Press. All rights reserved. This material may not be published, broadcast, rewritten or redistributed.
Was this article valuable?
Here are more articles you may enjoy.