Worsening conditions at a wildfire in northwestern Arizona prompted authorities to issue a second evacuation order over the weekend.
The decision Sunday to order an additional 700 homes evacuated brings the number of evacuated homes in the Topock area near the Arizona-California line up to 850.
Fire spokeswoman Dolores Garcia said the latest evacuation was ordered after humidity levels dropped, winds grew stronger and crews struggled to deal with a blaze burning in thick vegetation. The worsening conditions caused the fire to grow from 3 square miles to nearly 8 square miles.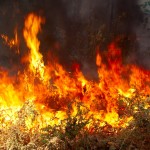 The blaze has already damaged and destroyed structures, but no estimate was available on the number of affected homes and outbuildings. The number of damaged structures was expected to be released later Sunday.
Crews near the evacuated homes were clearing away brush around the neighborhoods in a bid to blunt the fire. They also were using airplanes to drop retardant and bulldozers to build barriers between the blaze and homes.
The fire broke out Saturday morning in the Topock area, 30 miles southeast of Bullhead City.
The blaze is under investigation, but there was lightning in the area when the fire started.
There has been zero containment.
Copyright 2020 Associated Press. All rights reserved. This material may not be published, broadcast, rewritten or redistributed.
Was this article valuable?
Here are more articles you may enjoy.